With the sanctity of the Hooghly River, the serene beauty of the eastern Himalayas, the beauty of the Sundarbans and the lush green tea gardens, West Bengal culture is the perfect combination of modernity, beauty, and tradition.
West Bengal has exposed a variety of cultural authorities from Hindu rajas along with foreign coloring to Muslim influence. This is reflected in the art, culture, dress, jewellery, food, music, dance, architecture, clothing, religion, and festivals of West Bengal which was known as the richest cultural state in India.
Traditional jewellery of west bengal is usually made of gold and precious stones. It has a unique traditional style and has preserved the cultural ethnicity of India.
Traditional Jewellery of West Bengal
1. Patti Har
The Patti Har is a heavily studded collar. West Bengal women wear Pati haar in Durga Puja, weddings, and family celebrations. Crafted from gold, Pati Haar is a type of traditional bengali jewellery that is crafted with intricate design and flawless precision. Despite having heavy and intricate designs, it is comfortable to wear (due to its flattened shape).
2. Jhumko
Jhumko or Jhumka with beautiful intricate floral designs. Jhumko is very popular among Bengali women. They are also known in English as chandelier earrings. With the new fashion trends, many new designs have been incorporated into the jhumko or jhumkas, making them more stylish and suitable for the latest fashion trends.
3. Crown
This is the most famous type of Bengali Jewellery. The crown is the headdress and is used to hold a Bengali bride's veil at the wedding ceremony. It is believed to be inspired by British fashions of yesteryear when they were the rulers of the country. It is sometimes paired with a tikka mang to give the bride a graceful and elegant look.
4. Choker
The choker, as the name suggests, is a tight-fitting tie worn at the top of the neck. Nowadays, gold chokers are mostly set with diamonds or pearls.
5. Chur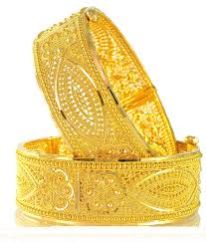 Crafted with elegant and intricate work, the chur is the traditional gold bracelet worn by women in Bengal. A significant amount of gold is used in the manufacture of a single bracelet, sometimes as much as 50g.
Bridal Jewellery of West Bengal
West Bengal, a state known for its intellectual abilities and rich culture deeply rooted in femininity, like many other states in India, has developed its own distinctive style when it comes to fashion.
Bengali women are enterprising when it comes to wearing a saree or adding a unique touch to traditional jewellery. This also applies to her on her wedding days, when an exquisite red Banaras saree is gracefully draped around her, while a pristine white "mukut" (crown-like ornament) adorns her crown.
Elaborate, delicate and eye-catching, her jewellery impresses with graceful curves and motifs, some of which originate from different parts of India.
So, if you are a West Bengal bride who wants to have a traditional vibe on your big day, here is a quick jewellery guide to help you put together your look.
1. Mukut
As a sign of wealth and prosperity, the mukut is an Indian-style gold mini tiara worn on the crown of the Bengali bride. Today, however, many brides are forgoing pure gold mukuts in favor of the more affordable gold-plated versions of this jewellery.
2. Dul
An earring that covers the entire ear with its artistic design. A classic masterpiece of Bengali luxury, the Kanner Dul is generally worn by women only on festive occasions.
3. Bun Pin
Known for their thick, long locks, Bengali brides flaunt traditional bun pins with relish. A common accessory in the ancient Zamindar days, the bridal bow pin is a colorful creation of gold and richly colored gemstones.
4. Shaka Paula
A well-known accessory throughout the Indian subcontinent, the bridal Shaka Paula is a set of white and red bangles worn only by married women in Bengal. Delicate white bangles (shaka) made from snail shells and bright red (Paula) made from coral create an eye-catching color scheme that goes well with the classic 'lal paad' (red border) saree.
5. Nakchabi
A jeweled nose ring that shines brightly on the bride's face. This accessory also regularly worn by Bengali women and magnified at their weddings.
6. Nath
These are traditional gold nose rings mostly adorned by brides during a Bengali wedding ceremony.
7. Kaan Bala
Kaan Bala is the big round earring and is the favorite of most Bengali women. Kaan Bala was inspired by the shape of the bracelet (Bangles called Bala in Bengali).
8. Kaan Pasha
Ideal for brides with round faces, the Kaan Pasha is a full-length earring that covers the entire earlobe with its intricate design. These eye-catching earrings are usually round, but these days you can get them in a leaf shape too.
9. Sat Noli Har
A lavish piece of gold jewellery is usually only worn by brides on their big day. The Saat Noli hair has seven tiers, with each necklace being larger than the next and a similar medallion adorning the center.
10. Sita Har
Probably one of the longest necklaces in your jewellery collection, the Sita hair consists of several delicate gold chains that converge in an ornate locket, usually adorned with floral motifs.
11. Bala
A Bengali girl's favorite piece of jewellery, usually inherited from her mother or mother-in-law, the ball is an absolute must-have in many women's jewellery boxes. A chunky gold bracelet adorned with floral or animal motifs, the Bala pairs well with the Paula Shaka, and no other bracelets or bangles are needed.
12. Bauta
A traditional semi-cut bracelet filled with lacquer to retain its shape and plated with gold; the Bauta worn by women in Bengal.
13. Amritapaker Bala
Crafted in a brilliant spiral design, these bangles are heavy and elegant pieces. Worn only on special occasions, these bangles have intricate motifs on one end.
14. Anant
A gold bracelet with intricate lacework and an adjustable chain, the Ananta is often a precious heirloom that a bride inherits from her mother or mother-in-law.
15. Kamar Bandh
Like the popular South Indian vaddanam, the Bengali Kamar bandh (waist adornment) features a simpler design and is adorned with gold-carved floral motifs.
16. Loha Badhano
Like the popular South Indian vaddanam, the Bengali Kamar-bandh (waist adornment) features a simpler design and adorned with gold-carved floral motifs.
Tribal Jewellery of West Bengal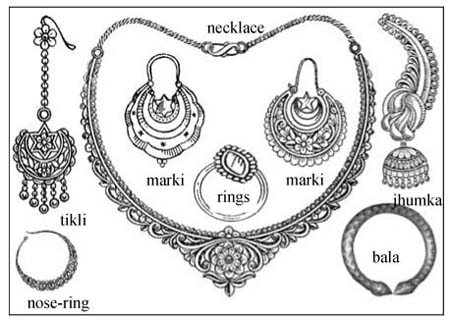 Tribal jewellery of West Bengal addresses the traditional style and preserves the cultural ethnicity of India. Some of the major metals used to make jewellery in the state of West Bengal can be mentioned as gold, precious stones, silver, brass, zinc alloys, etc. Swankars are basically the caste involved in jewellery making.
They made jewellery for the wealthy upper class as well as the traditional tribal jewellery typical of the state of West Bengal.
Rosewater spray, pendants, brooches, bracelets, hairpins, etc. They are some of the examples of good and unique handicrafts in West Bengal. All of them have a very exquisite style.
The filigree works from the Maukhali area of ​​Bengal bear a close resemblance to the type found in Orissa. In both cases, the techniques resemble in many ways the Kundan setting of uncut gemstones as well as the open claw setting of faceted gemstones practiced today, along with a European influence of sophisticated, high-tech equipment used for polishing and cutting. Both techniques require a lot of hard work and dedication. It also required a lot of skill to shine on the field.
Now, the common trend is slightly different than in the previous days. Nowadays, lighter decorations and filigree work are in demand, which requires a lot of skill from the craftsmen.
Tribal designs continue to favor as they still retain the essence of traditional jewellery and allow costumes to be paired with accessories such as hairpins, bobby pins, necklaces, and nose rings. They carry ethnicity for centuries.
1. Tikli
Tikli is a traditional headdress. Made of gold, brides usually adorn it. Also adorned by Bengali women on auspicious occasions and family celebrations. The intricately crafted designs with precision. An expensive tikli contains set stones (both precious and semi-precious).
2. Kaan
Kaan basically means ears. Shaped like the human ear, Kaan is an adornment for the ears. Covers the entire ear. Bengali women adorn this beautiful gold ornament during wedding ceremonies and family gatherings. A large quantity of this precious metal has been used to create these beautiful earrings, starting at a minimum of 15 grams per ear.
3. Chik
The Bengali adaptation of the popular choker necklace, the chik is also crafted in gold and usually features an adjustable fabric clasp.
4. Hunsuli
Hunsuli has traditionally been worn by Muslim women. But one day several West Bengal women use it. It was of finely worked silver and worn comfortably around the neck.
Baju, Tabiz or Tagaa are the traditional ornaments worn around the arm, which are delicate hollow bracelets intricately crafted from gold or silver. These ornaments can enhance a woman's feelings in a very gentle way and give the expression of femininity.
The types of choories or bracelets worn around the wrists. These come in many designs and are mostly handcrafted in gold or silver. Married Bengali women wear conch shell bangles followed by iron bangles to symbolize marital status.
They also wear something called a Kankan or a thick gold or silver bracelet and this is considered auspicious and has intricate decorations. Kankan is considered auspicious due to the pair of makara, or mythical crocodile heads, at the terminus of the circle. Married women can only use all this.
5. Ratan Chur
Ratan Chur is the traditional Bengali hand ornament. It has five rings on the fingers connected by individual chains to reach the wrist or arm. A Bengali bride usually adorns Ratan Chur.
6. Mantasha
A wide bracelet delicately carved with golden lace, the mantasha also includes a delicate ring that attaches to one of the bride's fingers. If the bride chooses to wear a mantasha, the ratanchoor usually avoids it.
7. Dokra
Dokra is a form of tribal jewellery in the state of West Bengal. It is a symbol of craftsmanship. This form of metal casting is one of the oldest forms of metal casting and is technically referred to as "cire perdue" or lost wax casting.
This lost wax process, or 'cire perdue', is used to cast brass, bronze, or any precious metals. A wax replica of the desired product on a clay core with all its fine details of designs and decorations.
Dokra castings basically consist of different decorative accessories such as lamp holders, lamps, chains, figurines, and various symbols of tribal folklore and religion as well as exquisite tribal jewellery with ethnic Native American designs and patterns. No Dokra item is the same, and that is a unique feature of Dokra.