According to historians, Telangana's gems, known as one of India's, most expensive gems, initially belonged to Nizam. It is made of gold and silver and has a fine enamel finish to bring out the brilliance of the metal. Legend has it that Nizam couldn't pay the tax and sold these exotic gems to the Indian government at a very low price. The Supreme Court approved $ 65 million while the government tried to buy traditional jewellery of Telangana for $ 25 million. This is well below its actual value of $ 350 million. Look at the different types and designs of Telangana Jewellery that most Telangana brides wear at their weddings.
Traditional Jewellery of Telangana
1. Teeka & Jumar
Teeka is a piece of Jewellery worn on the brow. Though it is worn by brides from various parts of India, the distinctive patent circular shape studded with Almas (diamond chips) and pearls distinguishes Telangana Teeka. Teeka is purchased from the groom's family, and the mother-in-law presents it to the bride.
The tika's design was inspired by a shield used by troops in battle. It represents the groom now acting as a shield for the bride, which she proudly wears on her forehead. Do you agree that this is a wonderful thought?
2. Necklaces- Jada Huwa Lachcha & Saath Lada
No Telangana bride is complete without these two ornaments – Jada Huwa Lachcha, which is an attractive choker fashioned with uncut diamonds and gold with precious stones like emeralds or rubies hanging on the bottom.
Many chokers nowadays are inspired by this old design. Celebrities such as Dia Mirza and the late Sunanda Tharoor have been seen wearing it at weddings and other events.
3. Earrings- Karan Phool & Chand Baliya
There are two varieties of earrings. The first is Karan Phool. These earrings are typically paired with Jada Huwa Lachcha.
4. Nath
In Telangana, young girls usually get their noses pierced right before their wedding date. It represents the bride's purity and fidelity. The Nath is a gold ring with two pearl beads and a ruby bead.
5. Tirmani
Tirmani is an abbreviation for three (tri) gemstones (mani). Tirmani is made up of three distinct gemstones. Tirmani is a one-of-a-kind aristocratic Nizam necklace studded with ruby/emerald and uncut diamonds and accented with pearls for a royal touch.
6. Jugni
A jugni is a necklace constructed of two to three strings of pearls that finishes in a beautiful Kundan pendant adorned with precious gemstones. The pendant, which is formed like a Kairi (raw mango) and decorated with stones, is the focal point of this Jewellery.
Bridal Jewellery of Telangana
1. Sat Lada
Another style of necklace, but very different from a choker, is the Sat Lada, one of the most popular forms of traditional Telangana jewellery. This necklace, crafted specifically for a bride and consisting of seven strands and decorated with Telangana pearls, begins at the neck, and continues to the navel!
Each strand of these gleaming pearls is adorned with a pendant composed of gold and gemstones. This is an ideal appearance for brides who wish to exude royalty.
2. Papidi Billa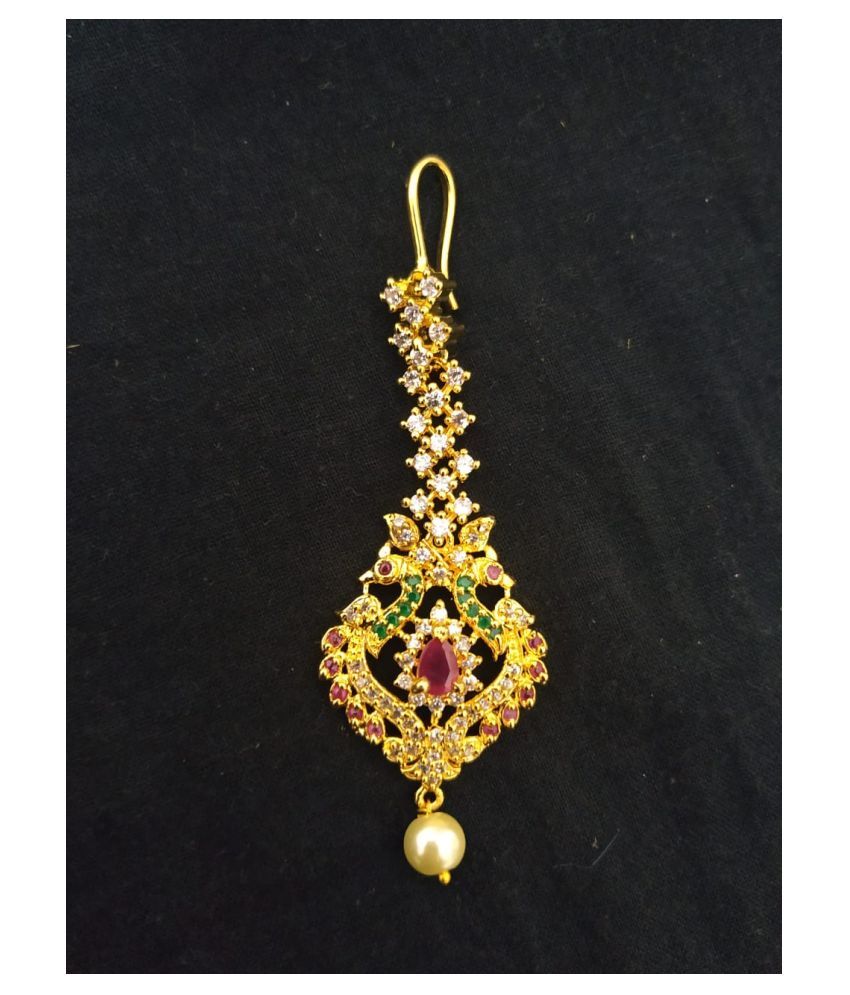 Like the maang tikka, the Papidi Billa worn by the Reddy Bride includes a gem-encrusted chain and gold/pearl beads that brush her forehead.
3. Poola Jada
A hair decoration made of fresh flowers like jasmine and rose petals with a gold ornament nestled in between, which the bride wears on her braid. Aside from the traditional motifs, modern brides have transformed these classic floral hair accessories into a modern netted variant.
4. Sutrala Golusu
The Sutralu Golusu, handed to the bride by the groom, is an important part of the marriage ceremony. This simple gold chain, like a Mangal sutra, can feature a dual coin pendant and red beads.
5. Gundla Haram
This timeless and elegant necklace is made of golden beads and has numerous beaded layers with a pendant on one or both sides linking them together.
6. Lakshmi Kadiyam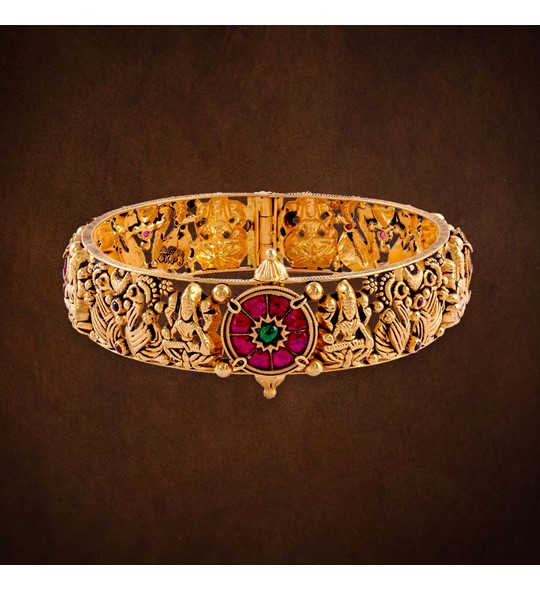 A traditional bridal Jewellery piece, the Lakshmi Kadiyam is a bracelet with Goddess Lakshmi designs encircled by small flower patterns or studded with valuable stones. This divine adornment, which represents wealth and prosperity, is not only worn by brides, but also by ladies at festivals.
7. Vadanam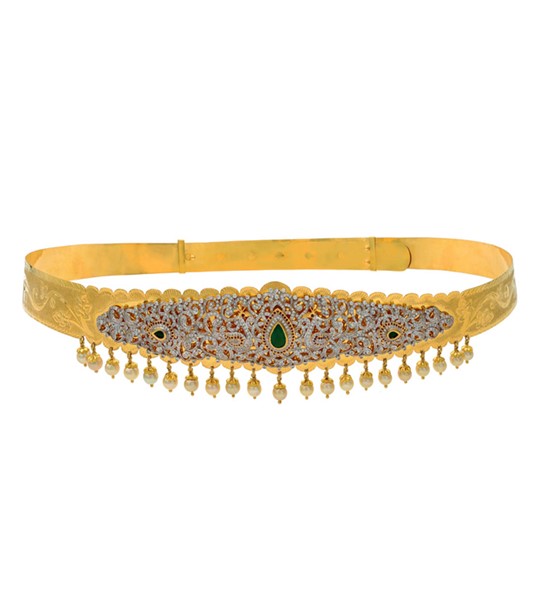 The Vadanam is an asymmetrical gold belt with traditional designs such as peacocks, birds, or deities that is worn as a waist belt or chain to hold up the saree. This gold belt is a statement accessory that not only keeps the bride comfy in her heavy silk saree but also highlights her hips.
8. Nakshi Haram
Carving Nakshi (carved) Jewellery is an ancient craft that involves shaping gold sheets into gods, goddesses, fairies, and legendary creatures. The Telangana bride prefers to mix this striking necklace with other lighter neckpieces because it is heavier than all her other necklaces.
9. Nakshi Vadanam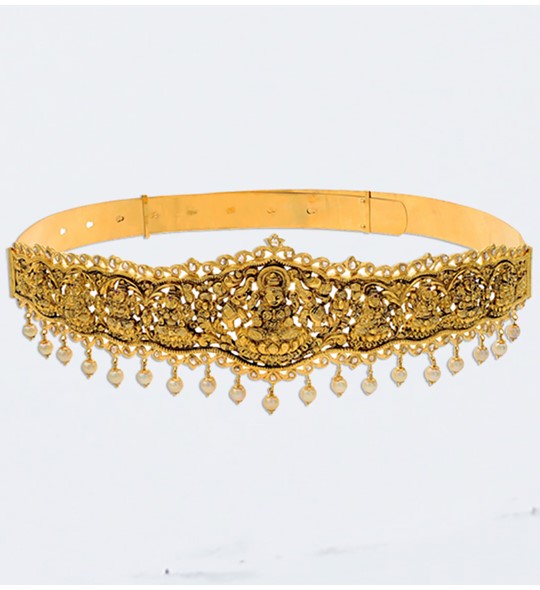 Inspired by Nakshi motifs, this elaborate gold waist belt holds a Telangana bride's saree together while also highlighting her hips.
10. Aravanki
The Aravanki is a traditional upper arm decoration with a unique curving V-shape that has passed down through centuries.
Tribal Jewellery of Telangana
1. Necklaces
Tribal Jewellery is one of India's most unique and intriguing forms of Jewellery. The original format of this Jewellery design has been kept by ethnic tribal cultures. It is essentially tribal Jewellery composed of simple earthy elements such as bone, wood, clay, shells, and unrefined metal.
2. Pendants
A decorative object or piece of Jewellery with a hook to hang from a chain around the neck.