Rajasthan is well-known for its culture, creative side, and mouth-watering cuisine delights. Rajasthan is a place where various royals and kings introduced their traditions, which may still observe in their exquisite jewellery and clothing tastes. Traditional Jewellery of Rajasthan combines current trends with true ancient designs. The design that no woman can resist wearing and flaunting.
Rajasthani Jewellery, the earliest form of jewellery, is truly beautiful in all its grandeur.
Traditional Jewellery of Rajasthan
1. Kundan Jewellery
Kundan jewellery is famous among ladies for its intricate designs. Kundan jewellery requires a great deal of attention to detail and patience. Initially, these stones were thought to be highly purified gold.
2. Thewa Jewellery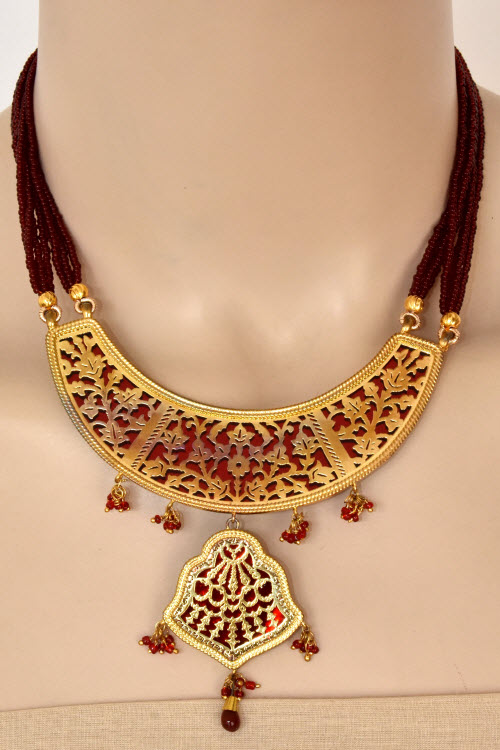 Pratapgarh jewellery, also known as Thewa art, is another type of enamel work that employs both gold and silver and includes a coloured glass component on the foundation. Pratapgarh jewellery typically takes more than a month to create that stunning complicated pattern.
3. Meenakari Jewellery
Minakari is extremely popular in Rajasthan and needs a high level of precision and talent. The metal surface of Minakari is artistically crafted by fusing it with brilliant colours and incorporating semi-precious/precious stones.
4. Polki Jewellery
Polki Jewellery is an uncut and unpolished diamond. It is semi-polished and receives little chemical treatment, giving the jewellery a rustic character.
5. Lac Jewellery
Lac, also known as "common man's gold," is the jewellery staple for the women of Rajasthan.
6. Kundan & Judau Jewellery
Kundan craftsmanship Jadau's is extremely prominent traditional jewellery of rajasthan. People, however, frequently confuse Jadau and Kundan jewellery.
7. Rakhdi/Borla
Rakhdi/Borla is the traditional jewellery of Rajasthan. Borla, a traditional Rajasthani jewellery style, is distinguished from the ordinary maang tikas by its spherical or bell-like shape.
8. Raani Haar & Choker
Traditional Rajasthani jewellery in the form of a Raani Haar encrusted with exquisite multi-colored gems. Raani Haar is long and kisses the navel, while the neckpiece is hefty and covers the neck. The jewellery is constructed of gold and uncut diamonds and has an amazing appearance.
9. Bangadi
A pair of bangles worn by Rajasthani ladies with a thick crimson lining and a little circular gold protrusion covering the bangles. Married Rajput Rajasthani ladies solely wear these bangles. The gold and crimson color scheme, along with the elaborate stone-studded craftsmanship, is stunning. Bangadi is an excellent option if you want something classy and classic in your bangles.
10. Haath Phool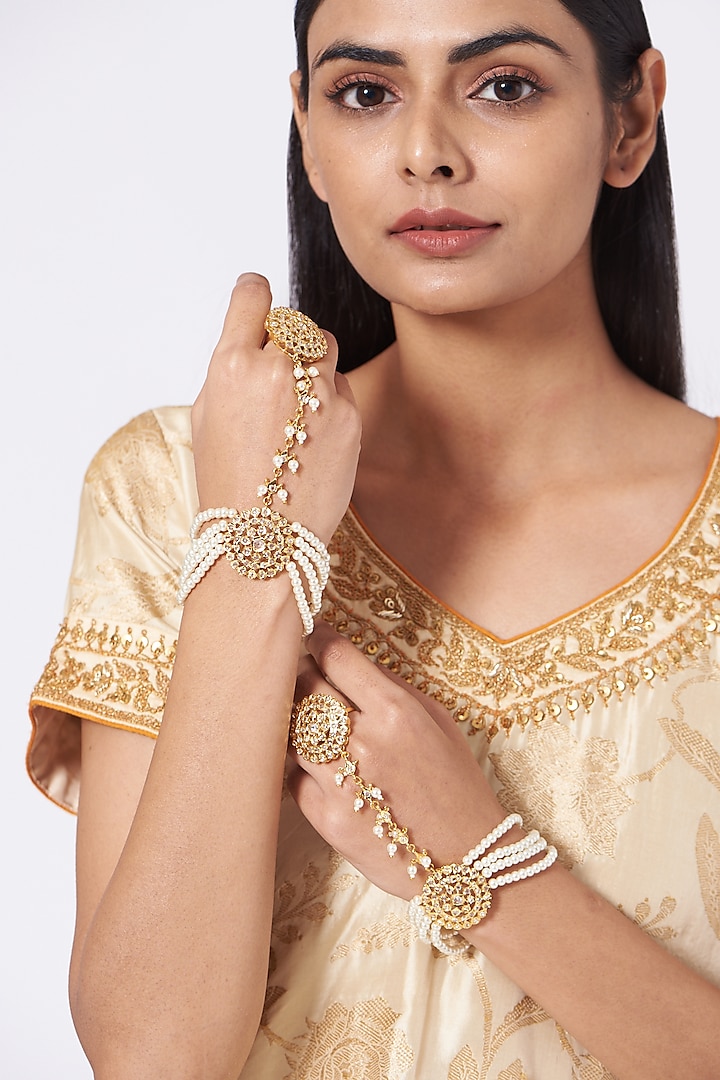 Haathphool is a type of hand bracelet that goes by numerous names, including haath Kamal, hand chain, and hath panja. It enhances the appearance of the rear of the wrist and the palm. Haathphools fashioned of gold, Kundan, minakari, and sometimes jadau work and come in a variety of designs and patterns.
11. Baaju Band & Chooda
The upper armlet is called a bajubandh. It represents marital joy and is hence worn by Marwari and Rajput brides. The Bajubandh is distinguished by the beautiful masonry carved on gold.
12. Surliya/Kanbali and Jaale
Rajasthani jewellery earrings are popular due to their antique and imperial appearance. They are known as Surliya/Kaanbali or Jhaale in Rajasthan. Rajasthani earrings, immaculately created with elaborate Kundan or Minakari work, give a rich royal appeal with a sense of history and fashion.
Rajasthani earrings, without a doubt, set you out from the crowd. However, you cannot accompany them to every event. Other varieties of earrings also required to complete your outfit.
13. Kardhaani/Thagdi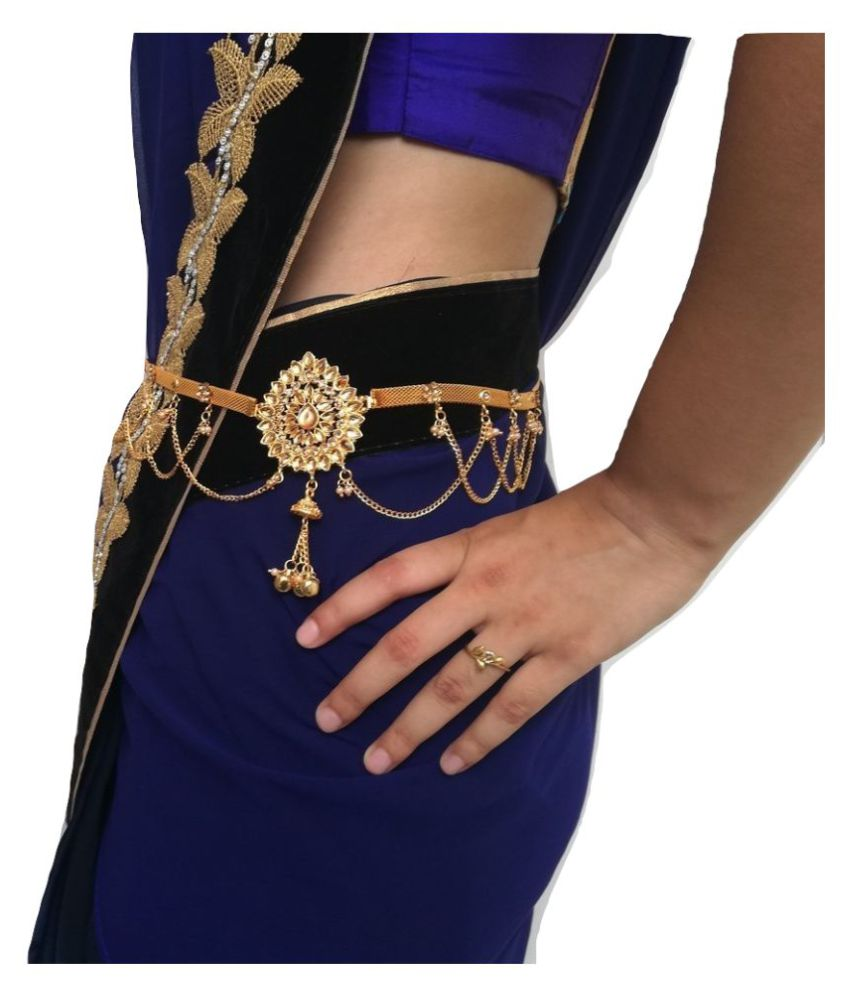 In Rajasthan, a belly chain/waist chain known as Tagdi or Kardhani. Rajasthani brides mostly wear it, which made of gold, Polki work, or Kundan.
14. Anklet/Kada
An anklet is one of Rajasthan's most ornately embellished jewellery types. Rajasthani tribal ladies wear large round silver kadas (like the one shown in the picture).
15. Bichua
A bichua is a toe ring composed of gold or silver. Bichuwas, which are quite popular in Rajasthan, is gorgeously ornamented by Rajasthani ladies on a regular basis. Women nowadays wear artificial bichuwas. Rajasthani jewellery is very magnificent in all its splendor.
Tribal Jewellery of Rajasthan
The most visible jewellery for any Rajasthani woman is silver. Tribal jewellery is extremely popular among Rajasthani ladies and is in high demand.
1. Silver Jewellery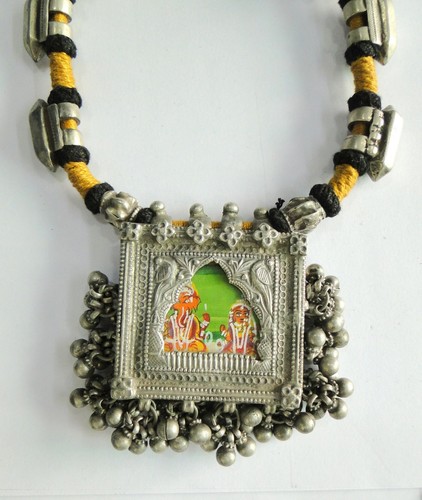 Rajasthan is widely known for its tribal jewellery. Rajasthan's tribal clans wear colorful and heavy decorations adorned with coins, shells, beads, and metallic mesh, making them easily identifiable.
Rajasthan's Banjara tribes wear beaded belts around their waists to complement their tribal banjara appearance. Silver is utilized to produce indigenous Rajasthani jewellery due to its low cost.
2. Ivory Bangles
Women in most Rajasthani tribes wear ivory bangles. A perfect set of ivory bangles has 17 on the upper arm and nine on the lower arm, for a total of 52 on both arms. These women not permitted to remove their bangles, even while sleeping.
These bangles worn for the duration of a woman's marriage. Ivory bangles have a magical effect in Rajasthan that protects the mother from evil and eases birth pains.
3. Madalya
A protective role served by metal plaque amulets depicting a Hindu god, generally accompanied by an animal vehicle.
4. Bhor
A gold or silver forehead decoration embellished with silvered glass beads and mirrors. It is usually spherical; however, it can also be flat. Other jewels can attach to the sides of the bhor.
5. Hansuli
A gold or silver forehead decoration adorned with silvered glass beads and mirrors. It is usually spherical; however, it can also be flat. Other jewels can attach to the sides of the bhor.
6. Timaniya
Timaniya is a sort of necklace that means "tin maniya – three diamonds." The three-core ball-shaped elements are referenced in the name. Punch (five) maniya is the name if there are five balls. It is usually supported on the sides by multiple strands of glass beads.
Bridal Jewellery of Rajasthan
1. Kundan Bhutti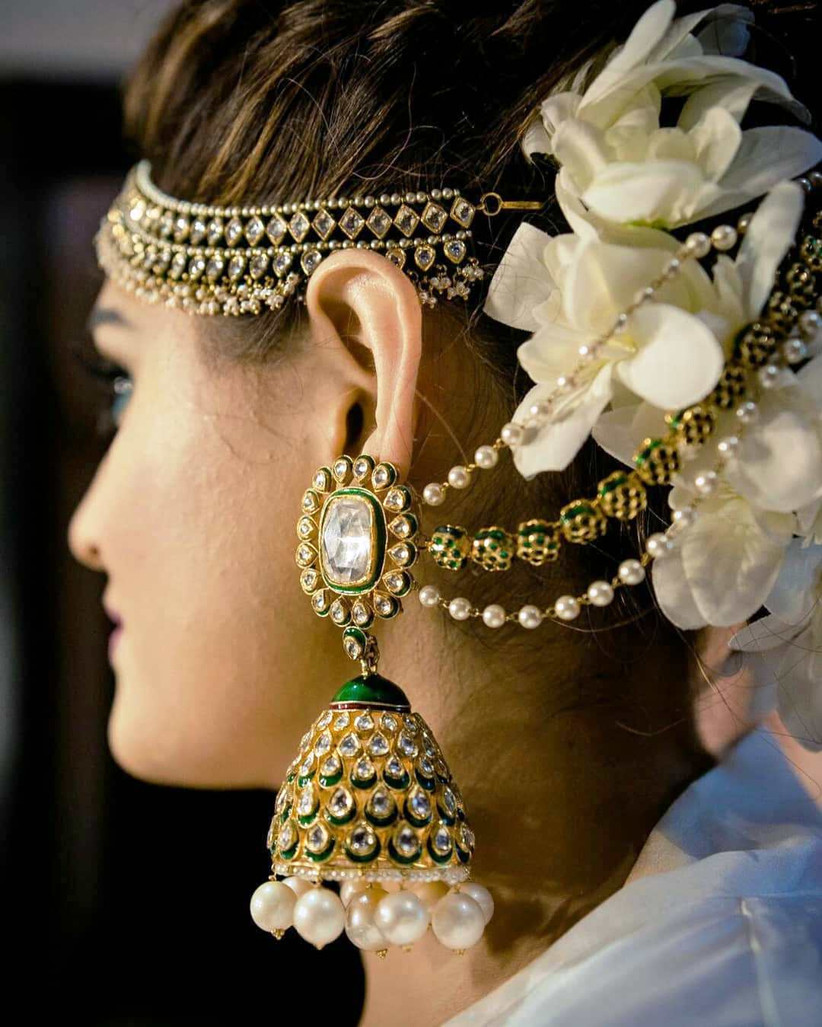 These are traditional jhumkas from Rajasthan. This Rajasthani jewellery design features elaborate craftsmanship that is decorated with jewels and stones (both precious and semi-precious).
2. Aad/ Kaanthi Necklace:
Aad or Kanthi necklace is one of the most well-known and beautiful forms of Rajasthani Jewellery. Aad, also known as the Rajputana or Rajasthani necklace, is a square/rectangular choker that is typically given to the bride by the bridegroom's family.
Kanthi is a traditional choker made of gold that is worn by brides and is frequently embellished with Kundan and other precious stones like polka. Aad, a piece of must-have jewellery in Rajasthan, accentuates the bride's appearance and provides oodles of royal charm to her entire visual appeal.
3. Choora
A choora (or chura; plural chooriyan) is a set of bangles customarily worn by a bride on her wedding day and for a period afterward, particularly at Rajasthani weddings.
4. Maathapatti
Although it was formerly a traditional piece of jewellery, it is now more of a fashion statement. The traditional head jewellery—Mattha Patti—is derived from two words: 'Mattha' meaning forehead and 'Patti' meaning a strap or band. It is an essential element of an Indian bride's solah shringar.
5. Sheeshpatti
Sheeshpatti is a Hindi name for a 'headband.' Sheesh refers to the skull, and Patti refers to a band. A sheeshpatti resembles a cross between a matha Patti and a maang tikka in look.
6. Nath
Nath, also known as Nathni, is a popular jewellery style among Rajasthani ladies. It is typically worn on the left nostril and connected to the left ear by a gold or pearl chain. Nath is a key component of Rajasthani bridal jewellery. It was worn by women at weddings and other festive occasions.