Gold jewellery is the most popular bridal jewellery choice at the Odiya wedding reception. The filigree design is popular in Odiya jewellery and hence it is part of the bridal jewellery collections most of the time. Some popular traditional jewellery of Odisha choices by brides includes Sinthi Maang Tikka, Kundala – Earrings, Kadaa, Shanka and Chod Bangles, Notha Nose Rings, Cheeka Choker, Kathi Chain and Chandra Har 3-layer gold necklace.
Tribal Jewellery of Odisha
Orissa has the most tribes of any state in India, with 62 in total. Each of these tribal groupings has its own peculiar adornments, but I'll focus on the more common and interesting ones. The Bondo tribe is India's most spectacular tribe of its sort, dwelling in the remote hills of southern Orissa.
1. Bondo Tribe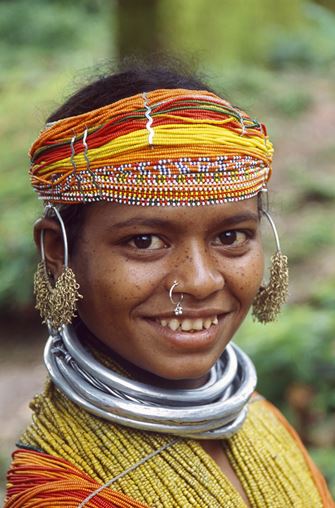 The Bondo tribe is the most magnificent tribe of its kind in India, dwelling in the untamed hills of southern Orissa. Bondo translates to "the naked ones," a moniker given to them by plains Indians. According to folklore, Bondo women are condemned, and a commandment prevents them from growing their hair or wearing any clothing other than a home-woven loincloth.
They compensate for this limitation by adorning themselves with many brasses or aluminum rings piled on top of each other around their necks, as well as gorgeous glass bead necklaces that cover their nude torsos down to their hips and act as upper clothing. Their shaved heads are also adorned with multi-stringed glass bead bands.
2. Kondh Tribe
The Kondhs are Orissa's largest tribal group. Kondh is divided into several subgroups: Dongria, Kutia, Desia, and Kui. However, their jewellery is remarkably similar, and a Kondh woman can be identified by her adornments. First and foremost, all Kondh ladies wear three gold rings on their noses.
Second, they enhance the beauty of their hairstyles by utilizing various hair clips and pins made of iron, brass, copper, or silver. Kondh girls adorn their heads with up to fifty different sorts of hair clips, and their buns are adorned with more than 10 different types of hairpins.
A small version of a ceremonial knife for buffalo sacrifice and a spiral pendant with a scissor-like design is sometimes found among hair ornaments.
3. Saora Tribe
Women from the Saora tribe are distinguished by huge wooden ear discs. Numerous rings adorn the upper part of the ears as well.
4. Gadaba Tribe
Women of the Gadaba tribe wear very unusual jewellery. When a Gadaba woman marries, she receives hefty aluminum neck rings, which she wears for the rest of her life, not even sleeping. These are accented by thick bangles and massive copper wire ear-hoops supported by a string stretched over the head.
Traditional Jewellery of Odisha
1. Dokra jewelry
Odisha, home to 62 tribes, is home to a sizable proportion of India's modest and fun-loving Adivasis, who adorn the country's deep interiors.
2. Bangle
This amazing item lends a spark to the charismatic personality of indigenous ladies. From Chudi to Kacha, and from Balang to Baling. From Sunguri to Kaja Tedua, these modern bangles are the perfect way to glam up for any occasion. These bangles are primarily made of brass and are available in a variety of forms and sizes.
3. Neck Ring
These spherical metallic pieces with polished curves provide a touch of aggressiveness to any indigenous woman.
4. Waist Chain
Away from the realm of fashion, tribal women know exactly how to dress! The delicate, shimmering waist chains are the right contrast for the waist. These elements not only show the indigenous women's aesthetic statement but also maintain a classic regal appearance!
5. Necklace
These colorful necklaces look wonderful on a tribal woman's outfit by bringing a glamorous vibe to the tribal aesthetic. These lovely necklaces are exceedingly discreet and trendy, whether they made with different colors of brass beads or coupled with coins or decorative charms!
6. Earrings
The common practice of stacking too many hoop rings on the upper ear! Apart from being intriguing, these earrings symbolize tribal women's nomadic and adventurous existence!
7. Nose Ring
These nose rings, also known as Septum rings, perforated on the area between the nostrils and give an edgy appearance. These rings not only add a classy touch to women's tribal looks, but they also explain their mystery allure!
8. Anklet
A combination of beauty and grace, these tribal anklets enhance one's uniqueness. These beautiful anklets, known by various tribes as Andu, Khadu, Pairi, Kalpati, or Panhari, establish their own distinct style and are a must-have for any season.
Bridal Jewellery of Odisha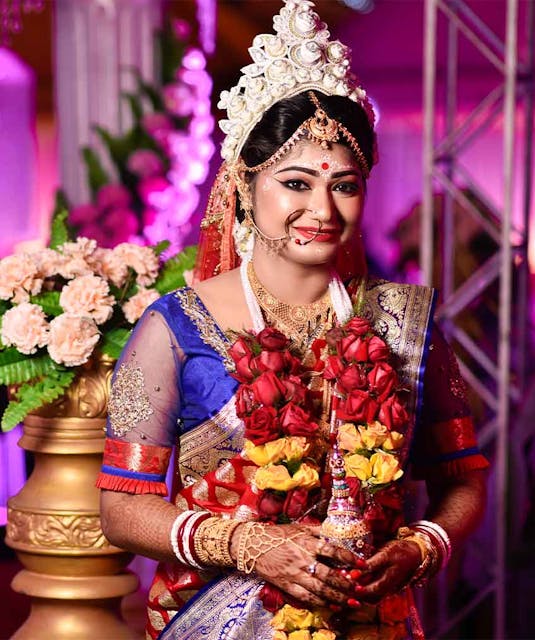 'Minimalism' is the best phrase to define Oriya weddings. Oriya weddings are noted for being modest yet gorgeous, as they represent a celebration of culture, customs, and togetherness. Odisha's recognized for its humility and simplicity. These characteristics were also evident in their weddings and related celebrations.
The bride and groom, as well as their relatives, must follow specific wedding rites. According to Odisha's culture and traditions, Oriya brides represent the goddess Lakshmi, the divinity of wealth and prosperity.
Despite being minimalistic, the bride is decorated with traditional clothing, accessories, and bridal jewellery to make her look like a true embodiment of the goddess.
1. Earrings
Jhumkas, large danglers, and Kundalas are popular earrings among Oriya brides.
2. Bangles:
Oriya brides are noted for wearing heavy gold bangles with complex designs, as well as crimson Shanka (conch bangles with inlaid gold motifs) and Kada.
3. Necklaces:
Raani Har (layered gold necklace), Cheeka (Choker), and Kathi chain are some of the more popular necklace styles among Oriya brides.
4. Notha-Nose Rings:
Notha, also known as Nath, is a massive nose ring made of gold with inlaid stones and pearls. This ring is connected to a chain.