Manipur literally translates to "the land of diamonds." Manipur was previously known as 'Subarna Bhu,' which translates as 'the land of gold.' According to certain ancient sources, this was a state that was actively interested in gold exportation. The Meitei and Bishnupriya ethnicities, together with many other tribes, dominate this little North-Eastern Indian state.
Manipur's people are renowned to be proud of their traditions and culture, and they adhere to them wholeheartedly. Manipuri marriages demonstrate their love and affection for their culture and traditions. Marriages in Manipur, like most Indian weddings, take place over a few days while adhering to traditional customs and ceremonies.
Manipuri brides are renowned to wear colorful gowns and may be easily identified from other communities due to their distinct style and design. These brides wore a Raslila skirt, as well as a sarong and a choli, to their wedding. Certain tribes' brides are known to wear full-sleeved cholis. The bride's traditional Manipuri jewellery, however, steals the stage.
Manipuri wedding jeewellery is generally made of gold, with beads, pearls, and precious stones attached. Even though Manipur is the land of gold and precious stones, brides wear very minimal gold jewellery for their wedding ceremonies, such as earrings, modest necklaces, finger rings, and bangles.
Pieces of jewellery and decorations, like clothing, enhance a person's appearance. They have long been popular, and Indians and Indian women are well known for their exquisite jewels and some of the expensive metals that make them is a security for women, and referred to as "Stree Dhan," literally it means riches of a lady or wife. Pieces of jewellery have multiple meanings in Manipur, where women are considered both fair and attractive.
Traditional jewellery of Manipur enhances their appearance. To the rest of India, Manipur was known as a state of 'Subarna Bhu,' which meant the Land of Gold. This signifies that gold was abundant, and the country famed for devouring gold. In any case, the land has been associated to the rare yellow gold since its fabled origins.
Manipur means "land of diamonds" in modern parlance. This state's geographical location has caused certain people of diverse origins to pass through it from east to west and west to east. This resulted in a more hybrid and admixed human population, as well as multiple conceptions of creativity from many streams, making Manipur's crafting results more attractive than those of surrounding states. This can also apply to ornaments, which are both beautiful and enticing, much like the state.
Traditional Jewellery of Manipur
Manipur was known as the "Land of Fairies" due to its unique appeal and colorful clothes embellished with these lovely trinkets. So, here are several applications for Manipuri traditional jewellery.
Manipur Bridal Jewellery:
1. Maatha Patti
A Maatha Patti is a head jewellery that consists of a pendant that rests on your forehead and is connected to two chains. This piece of jewelry is made of gold with precious and semi-precious stones inlay.
2. Necklace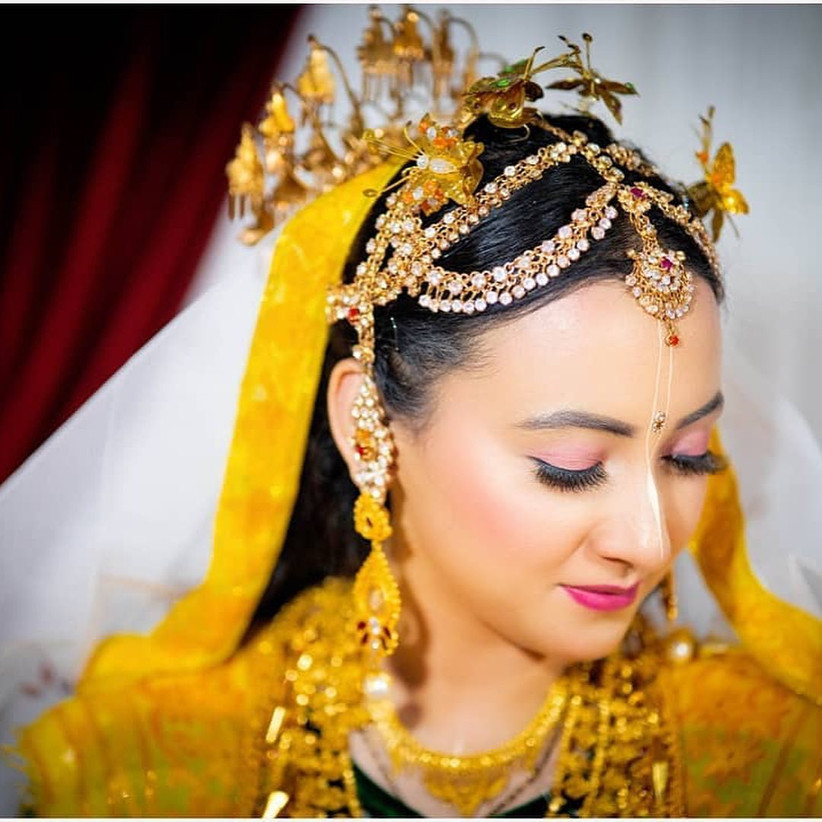 Manipuri brides are known to wear a few layers of simple gold necklaces and chains.
3. Earrings
Manipuri brides prefer to wear gold danglers for their earrings. Manipuri brides will love the Salsa Dangler Earrings and the Nita Pearl Bloom Chand Bali.
4. Bangles
Manipuri brides usually wear bangles made of pure gold or those inlaid with precious stones. 
5. Beads and Gems Employed in Manipur Ornaments
Beads are often used in the creation of Manipuri traditional jewellery. Beads are commonly used to make necklaces, which are created by weaving thread through the beads. There are numerous designs in these, and several garlands can connect to produce a single necklace.
Tribal Jewellery of Manipur
Manipuri tribal jewellery is often very diverse. Metals are rarely used by the tribes while creating decorations. They primarily obtain jewellery made of metals from the Meithei or Assam. Their ornaments are distinguished by bead ornaments, ivory armlets, and ornaments made from seeds or insects.