Kerala, the country of coconuts and greenery, is noted for its art, wonderful cuisines, stunning dance forms, and enchanting Temple Jewelry. Traditional jewellery of Kerala is well-known for its creative artistry. Kerala jewelry, embossed with pictures of gods and goddesses from temples in south India, symbolizes the dignity of rich Indian culture.
Because traditional jewellery of Kerala comprises traditional gold decorations fashioned from enormous quantities of gold, it is a superb investment for Keralan brides—even more so than diamonds. Kerala wedding traditions include a serene bride dressed in gleaming gold jewelry and stunning gemstones.
Whether you choose a modern or traditional look, here are some jewelry pieces to consider for your bridal wardrobe:
Traditional Jewellery of Kerala
1. The Pathaka
This gorgeous necklace is typically one of the first items of bridal jewelry worn by a Kerala woman. The main pendant was traditionally encrusted with colored gemstones or diamonds and hung on a broad gold chain.
The central motif is an etching of the Goddess Lakshmi, representing the bride's and her family's wealth and prosperity. Pathakam is made up of a gold pendant on a gold chain. This lovely piece of traditional Keralan jewelry is composed of pure gold.
2. The Mullamottu Mala/Pichimottu Mala
Both exquisite necklaces are inspired by jasmine blooms. The Mullamottu mala has a more rounded design, whilst the Pichimottu mala has an elongated form of the bud. It is frequently longer than many other necklaces and makes an attractive line that enhances the bride's regal image.
Jasmine flowers are an ancient Hindu symbol of beauty, love, purity, and prosperity. The Jasmine Buds' Necklace, also known as the Mulla Muttu Necklace, is made up of strands of jasmine petals strung together to make a necklace.
This traditional jewellery of Kerala is available in two designs: one with plain gold jasmine petals and the other with a combination of gold Jasmine buds and gemstones.
3. The Lakshmi Mala:
The Goddess Lakshmi is always present at Hindu weddings, and this necklace serves as a reminder of the bringer of both material and spiritual success. This necklace is common during Kerala weddings and made up of little gold coins that tightly linked together.
Each coin has a miniature representation of the Goddess Lakshmi carved on it to seek her blessing on the union and bride. 'Kasu' means coins, and 'Mala' means necklace; thus, Kasu Mala is made of many coins strung together to make a necklace. Because these coins are imprinted with the figure of Goddess Lakshmi, they are also known as Lakshmi Har.
4. The Manga Mala
This necklace features a paisley theme.
5. The Avil Mala
This stunning necklace is shorter than the others but no less spectacular. It gets the idea for its lengthy beads from puffed and flattened rice, which is a mainstay of Indian food, notably in Kerala. As a result, rice is regarded as a sign of abundance and good health, and it appears in most important rites.
6. The Pulinakha Mala
Also known as the "tiger claw" mala, the shape of the beads is like genuine claws and comes in a variety of hues. It could be a choker-style necklace or a longer chain. In any case, it's a spectacular visual piece that will leave an impression as regal as the tiger himself.
7. The Naga pada Thalli
The Naga pada Thalli is a hefty necklace with a centerpiece that mimics a King Cobra's hood. This piece is a typical feature of Kerala bridalwear and is made with gemstones or colored glass placed in a gold frame.
The snake in Hindu culture represents both eternity and the three most powerful forces in the universe: creation, preservation, and destruction. It is a sign to admire rather than fear.
It is one of the earliest Kerala jewelry designs and is shaped like the hood of a snake, thus the name Naga pada Thali. It is made up of green stones such as Emerald. These precious stones are strung on a gold chain.
8. The Elakathalli
The Elakathalli is a highly polished choker constructed of delicate gold strands that shimmers with every movement the bride makes. It towers over all other necklaces she may be wearing and is a particular choice among Christian brides and those looking to add a modern touch to their wedding ensemble.
Elakkathali is the popular traditional jewellery of Kerala. The bride wore a hefty choker necklace to her wedding. It is made of gold and had an elaborate pattern that needs exceptional craftsmanship.
9. The Karimani Mala
Typically, one of the largest necklaces worn by a Kerala bride, it made from an intricate pattern of black and gold beads with a gold mandala in the center. The black and gold beads threaded together to signify the union of husband and wife, two souls on a journey together, are also known as the "Mangal sutra.
10. The Oddi Yanam
This is a waist belt designed to draw attention to the bride's slim physique. It commonly etched with elaborate designs of various deities for Hindu brides or nature motifs for Muslim brides when it is broad.
11. Jhumkas or Thoda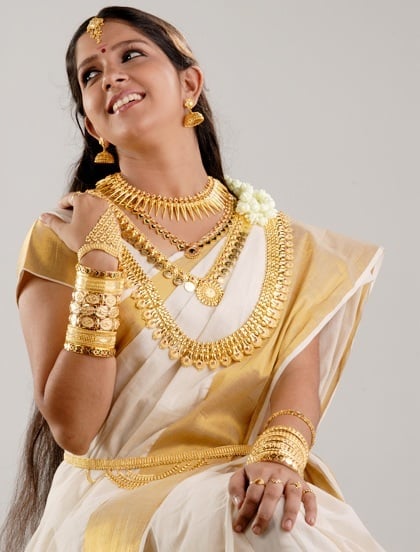 These enormous, drop-style earrings that resemble bells are associated with spiritual progress and social prominence. However, some modern brides prefer a more subtle look and have embraced the "Thoda" earring style.
12. Bajubandh
Also known as a "bajuband," this wristband is popular among South Indian brides, particularly in Kerala, but is less widespread in other parts of India. It is intended to wear on the upper part of the arm and is frequently constructed of gold and enhanced with expensive gems such as diamonds. The baaju ring is a symbol of power and strength, making it an ideal addition to any modern bride's wedding ensemble.
13. The Nath:
Nose bands, also known as "mookuthi," have become a major component of Indian culture and weddings — but not just for decoration. They are available in a wide range of metals, stones, and styles, with gold and plain diamond studs being equally popular.
According to conventional thinking, the Nath is reserved for married women, hence it represents her social position. The piercing is also said to alter female reproductive functions and minimize birthing pain.
14. Thadavala and Ottavala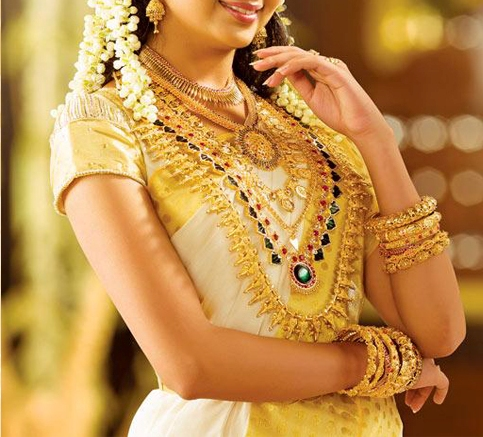 Kerala brides are frequently decorated from wrist to elbow in a plethora of bangles of various styles and materials. The thicker bangles are known as "thadavala," while the thin ones are known as "ottavala." Popular selections include diamonds, gemstones, pearls, and enamels.
15. Palakka Mala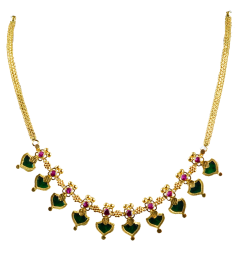 A 'leaf' necklace made of emeralds or imitation green stones, Palakka Mala is green in color. The pattern typically shaped like a leaf with a gold border.
16. Poothali
Poothali has patterns and designs inspired by nature. It is made up of rectangular pieces that are intricately sculpted with flowers and leaves.
17. Kolusu
A 'Kolusu' is an anklet worn by girls and women in Kerala at weddings, religious and festive occasions. Kolusu is traditionally made of silver, however, it is also available in gold.
18. Vanki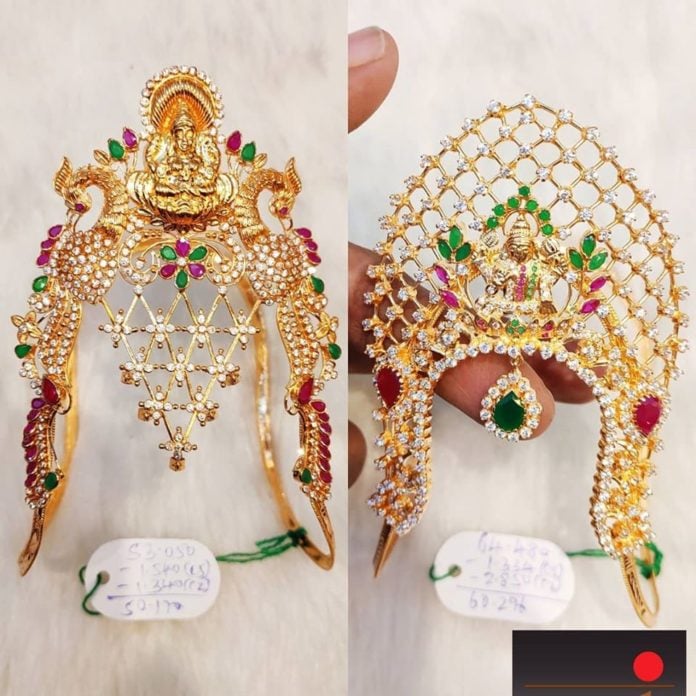 Vanki is a traditional Keralan Bajuband (armlet). Vanki's traditional designs made of gold and inlaid with rose-cut diamonds, rubies, and/or emeralds.
Bridal Jewellery of Kerala
1. The Netti Chutti: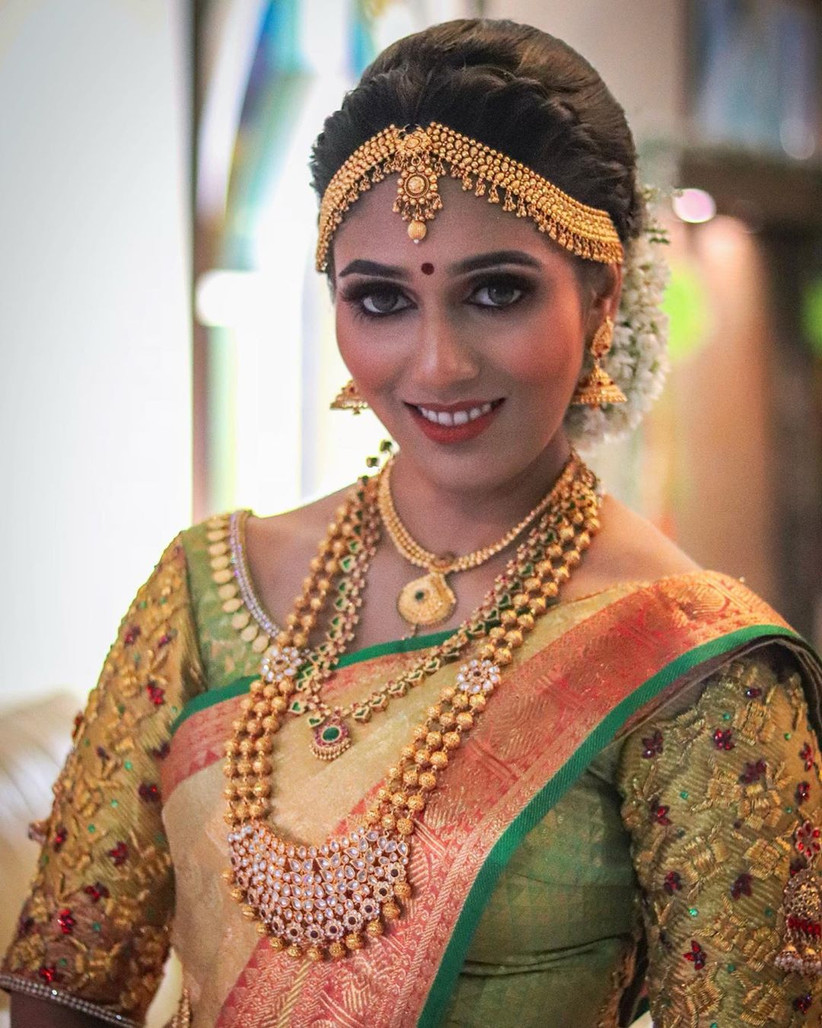 A form of maang tikka, this piece of jewelry is essential for any Hindu bride's bridal outfit.
2. The Thirumangalyam/Thali
Although the bride does not begin the ceremony wearing it, it is the most significant and important item of bridal jewelry at every wedding. The groom put this leaf-shaped piece around the bride's neck during the actual ceremony at the most auspicious hour.
It represents the husband's regard for his wife, the dignity of her position, and the love that they share. While the people of Kerala have long had a specific fondness for yellow gold, other metals have also gained popularity.
It's not uncommon to find silver jewelry or white gold in a bride's dress, especially when the bride changes into her post-nuptial sari for the afterparty.