Jammu and Kashmir have it all snow-covered mountains, skiing, beautiful, lush orchards, rippling lakes, and extravagantly beautiful culture. With its grandeur beauty, enchantment serenity, and rich traditional culture, Jammu and Kashmir has a cultural heritage of exquisite artisanship among its people, making handicrafts, particularly traditional jewellery, famous worldwide.
Jammu and Kashmir is defined by tradition and culture, from its poetry to its cuisine to its distinct fashion. The enchanting Kashmiri gold jewellery, known for its intricate, well-crafted designs and unique and minute detailing, reflects the state's rich heritage. Their names are derived from Persian and Sanskrit. In fact, Noor Jehan, the Mughal Queen, is credited with introducing and influencing the intricate variety of traditional jewellery in Kashmir.
Kashmir's native artisans are exceptionally gifted in the art of jewellery making. Their techniques are ancient and traditional, and they are thought to be impossible to replicate.
Here's everything you need to know about Jammu and Kashmir's traditional jewellery.
Traditional Jewellery of Kashmir
1. Semi-precious stones Kashmiri Jewellery
Jammu and Kashmir, known as India's jewellery crown, has its own distinct way of accessorizing jewellery. The ornaments in Jammu and Kashmir are meticulously designed and require skilled craftsmanship. Srinagar is known for its semi-precious gemstones such as emeralds, sapphires, agates, and amethyst.
The precious stones used in Jammu and Kashmir jewellery add to the aesthetic appeal of the ornaments. Kashmiri clothing and jewellery are well-known not only in India but all over the world.
Every year, many tourists visit Jammu and Kashmir, and they are captivated by the region's traditional dresses, jewellery , and culture. Read on to learn everything there is to know about Jammu and Kashmir's traditional jewellery.
2. Gold and silver Kashmiri Jewellery
In Jammu and Kashmir, most ornaments are made of gold and silver. Because the technique for making gold and silver jewellery is old and traditional, the jewellery of Jammu and Kashmir has a distinct style that is difficult to replicate.
3. Kashmiri Kundals:
Kundalas are circular earrings worn by the rural people of Jammu and Kashmir.
4. Nupura:
These are the anklets that rural women in Jammu wear.
5. Chaunk Phool: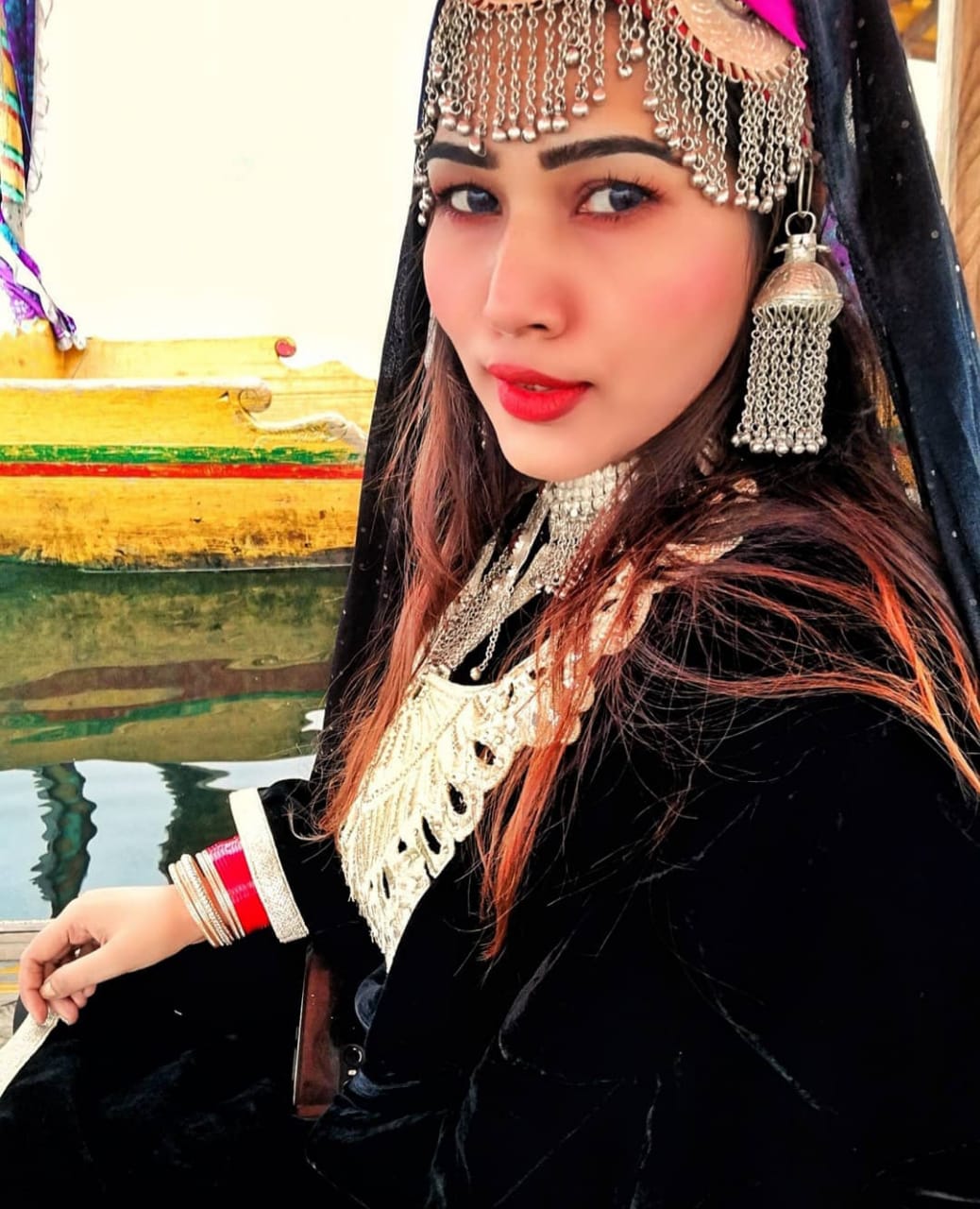 Rajouri district women wear a silver cap or crown known as chaunk phool. It is worn on the head beneath the veil.
6. Tika, Balu, and Kada:
The tika adorning the brow, Balu is a nose ring, and band/kada is a fine gold filigree wrist ornament/bangle worn by Jammu women. Kashmiri head jewellery comes in two varieties: Jiggni and Tikka. These are generally triangular, semicircular, or circular in shape and worn on the forehead. These are made of gold and silver and fringed with pearls and gold leaves.
6. Bala:
A turquoise stone is attached to a fringe of hanging gold leaves and balls on this Bala.
7. Alchaor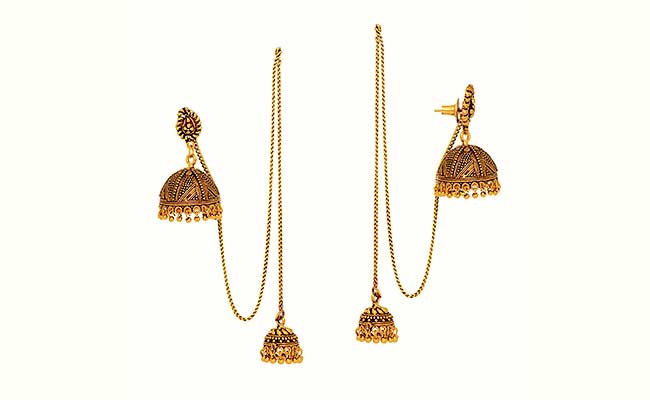 One of the most popular Kashmiri jewellery styles, Alka-hor is a type of ear jewellery that rests over either ear or is connected by a chain running over the head. Women in Kashmir pair Alchor with the Kashmiri traditional dress.
8. Atta Hor:
Another ear ornament that is an important part of the Kashmir jewellery trousseau is the atta-hor. It hangs over the ears of Kashmiri Pandit married women on either side of the head, linked by a golden chain that runs around the neck.
Atta-hor, another ornament worn by married Kashmiri Pandit women, hangs over both ears and is connected by a gold chain over the head.
9. Kanadoor:
Kanadoor is made of gold and silver and studded with red, green, and pearls. Young females typically wear it. Kana-door is a type of ear jewellery that is more popular among younger women. Kana-door, which is made of gold and studded with red or green pearls, also refers to 'beloved' in Kashmiri poetry.
10. Kana-Vaji:
Kana-vaji is Kashmiri earrings studded with small pearls. Kana-vaji is a symbol of marriage that is worn by women daily.
11. Neck Jewellery:
In Kashmir, necklaces are typically triangular pendants made of silver and gold suspended on a black cord.
12. Sondus:
Sondus is a shoulder ornament that is attached to the left shoulder. It is made up of a few gold or silver discs linked together by several long silver strands.
Sondus is more than just a piece of jewellery ; it was given to a daughter by her mother at the time of her marriage and thus carries sentimental value. This is yet another ornament that represents marriage.
Sondus or Branshil, which is mostly worn by Ladakhi women, is an ornament that a mother gives to her daughter when she marries. This piece of jewellery is attached to the left shoulder. Long silver strands connect a few gold discs on the ornament.
13. Perak:
A Perak is a Ladakhi women's headdress. It was set across a wide leather piece with large turquoise and other stones (between 20 and 200). These were some of Jammu and Kashmir's most beautiful and magnificent traditional jewels.
14. Halqaband:
A traditional tight choker is worn around the neck. It is usually made of gold and has interlocking sections that are held together with thread.
Kashmir Bridal Jewellery
1. Kaskar: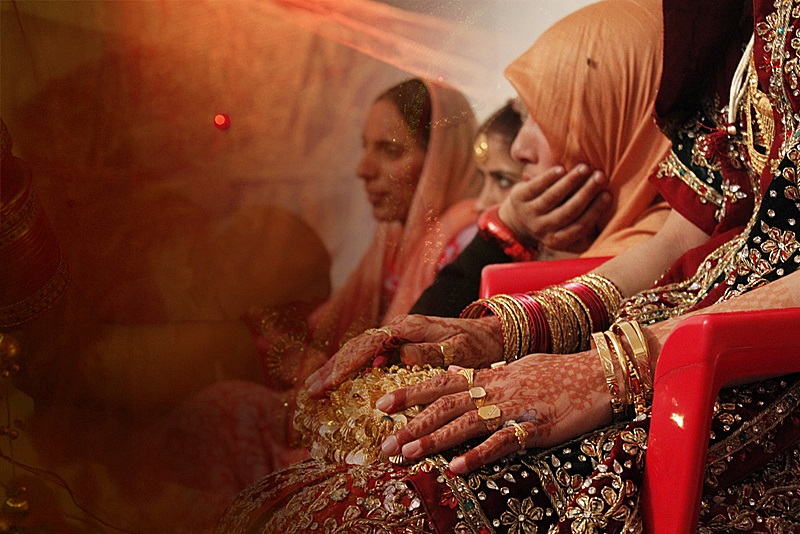 Made of gold, these thick bangles are worn by brides alongside other bangles.
2. Gunus:
Gunus is a thick gold and silver bangle. At each end, a snake/lion head is embossed. Gunus Headband is a traditional choker necklace embellished with mirrors, rubies, emeralds, and precious gemstones.
It is made up of interlocking sections that are held together by a thread. Gunus, a wrist ornament, is a thick gold bangle with the head of a snake or a lion on both ends. This is one of several gold designs inspired by wildlife.
The gunu is a bold and thick gold bangle that is forged out of gold and features an animal head design where both ends meet.
3. Deji Hoor: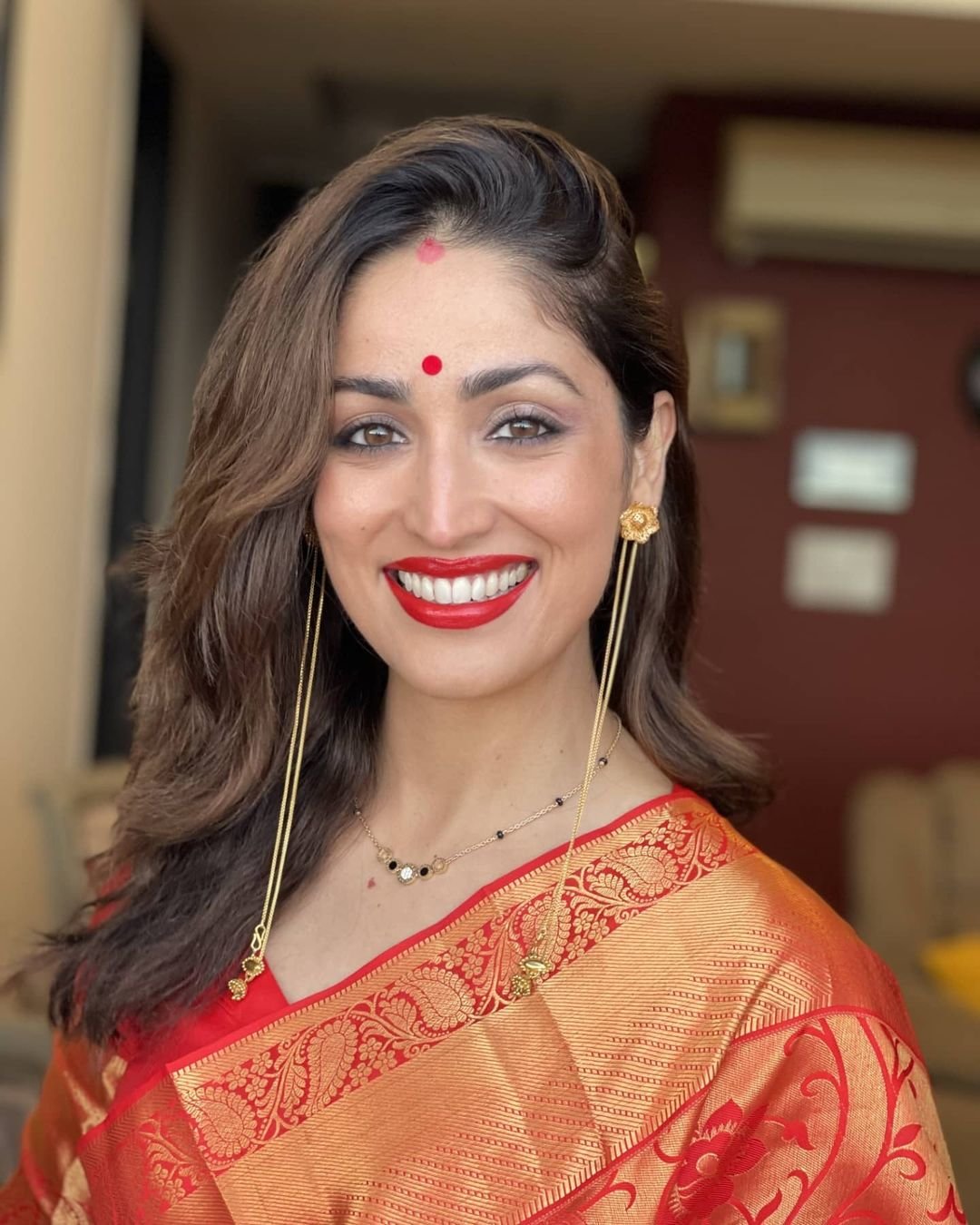 Deji-hor are traditional Kashmiri earrings that hang on a silk thread/gold chain and pass-through holes in the ears pierced at the top end of the earlobes. Deji-hor, one of the most well-known and widely worn Kashmiri wedding jewellery styles, represents the marriage status of Kashmiri women and is mostly worn by Kashmiri Pandit women.
The deji hoor is a dangler earring that hangs from the upper portion of the ear and is worn by every Pandit woman as a symbol of her marriage. It is thought to have been created by the great Kashmiri acharyas to instill divine strength in married women.
The deji hoor, which is pierced through the top ends of the upper cartilage of the ears, is worn by married Kashmiri Pandit women as a symbol of their marital status.
Every Kashmiri Pandit bride wears these iconic earrings, which consist of 'Aath,' a thin gold chain that replaces the red thread after the marriage ceremony, and 'Athoor,' a fringed ornament that accompanies a hexagonal-shaped gold dejhoor.
Muslim Women's Traditional Jewellery in Kashmir:
Silver jewellery is popular among Muslim women. Earrings, neckpieces, bracelets, and heavily jeweled chains are common places to find them.
Tribal Jewellery of Kashmir
Jammu and Kashmir tribal jewellery is popular throughout the state and is primarily made of gold, silver, and stones. Over the years, they have pushed themselves to try new things, making their journey more exclusive and one-of-a-kind. Their works have a very authentic style. They provide a wide range of options as well as the most recent trends in their work, which are well received by all.
The tribal men and women of Jammu and Kashmir typically wear a unique circular type of earring known as a 'kundala.'
The women also enjoy wearing "Nupura," which is a type of large anklet.
The women of Rajouri district typically wear a silver cap or crown on their heads beneath their veil, which they refer to as 'chaunk phool.' They usually wear 'tika' on their foreheads, as well as a nose ring called balu.
There are several bridal pieces of jewellery that are mostly seen in this area, such as fine gold filigree wrist ornaments and other fine specimens. This wrist ornament is referred to as a band or 'kada.' 'Halqaband' is another important piece of jewellery.
This is primarily a traditional choker studded with various stones including rubies, emeralds, semi-precious stones, and even mirrors. This is made of silver, gold, and brass and has an interlocking system that is held together with thread.
Every Pandit woman has 'dejihor' tattooed on her ear. This ornament is worn on the upper part of the ear. This is a common symbol of marriage.
Even today, 'Gunus' is a popular name. This chunky bangle is made of solid gold and silver and features a snake or lion head at each end. This is a popular and widely worn piece of tribal jewellery in Jammu and Kashmir.
The various districts of this state, particularly Srinagar, the state capital, are a center for precious and semi-precious stones. And these are properly used in the creation of both traditional and trendy jewellery. These are well-known throughout the country.
Jhumkas and naths are well-known because the locals commonly use them. The jewellery of the Ladakh Himalaya region is also very distinct and one-of-a-kind.
This region's women wear an ornament known as a 'sondus' or a 'branshil.' This is a marriage symbol that is typically worn on the left shoulder. It is made up of a few gold or silver discs linked together by several long silver strands.
This is essentially passed down from mother to daughter at the time of marriage. 'Perak' is another term for extraordinary jewellery. This jewellery is mostly worn by women in Ladakh. This is priceless, with 20 to 200 large turquoises and other stones spread across a wide leather piece.