The traditional jewellery of bihar oozes typical desi elegance, adorned with gold embellishments that symbolize her culture. Her jewellery box is largely made up of gold trinkets that dazzle the eyes, and she looks stunning in a Zari saree.
When it comes to weddings, Bihar, India's easternmost state, is heavily impacted by its customs and culture. Bihari weddings are best described as rustic, energetic, and colorful. The ceremonies are complex. The wedding takes place in phases, and both the bride's and groom's families must attend all the traditional rites.
Bihar bridal jewellery is made of gold, diamonds, and other precious and semiprecious stones. Bihari brides are noted for wearing multi-colored bangles with their gold jewellery, which is their distinguishing attribute when it comes to wedding jewellery.
Traditional Jewellery of Bihar
1. Choker Necklace: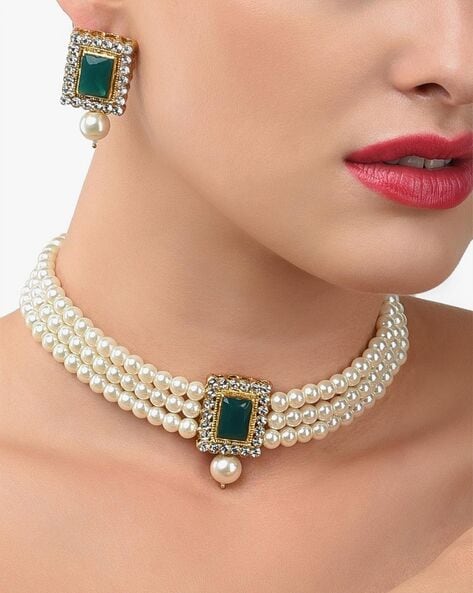 Made of gold and with an elaborate lacy design, the gold choker is a must-have in the Bihari bride's kit and looks great when coupled with longer necklaces. Another prominent item of traditional Bihari jewellery for Bihari women is a choker encrusted with diamonds and other valuable stones.
2. Chandrahar:
Made of gold pearls, this layered necklace is one of the lengthier necklaces in the Bihari bride's collection and features dual lockets with floral designs on either side.
3. Tikli:
Like the immensely famous maang tikka, the tikli is a head adornment encrusted with precious stones that are worn on the bride's center parting of her hair.
4. Panchlari:
Made from five layers, the panchlari necklace is traditionally crafted out of pearls and colorful gems with each individual necklace containing a dainty locket.
5. Satlari:
Like the popular saat lada haar in the north and south, the satlari is stacked with seven necklaces with lockets adorned with pearls and valuable stones.
6. Sita Haar:
A statement-making long necklace that dangles down to the bride's waist and is generally combined with other shorter necklaces, the Sita Haar is made from gold and dangles down to the bride's waist.
7. Nath:
Vibrant and unmistakably desi, the gold Nath crowns the bride's nose and is accompanied by a chain that can be linked to the bride's hair for support.
8. Dholna:
Adorned with an intricate gold drum-shaped locket, the dholna is worn not only on wedding days but also on festival occasions by Bihari women.
9. Bangles:
Delicate and vivid glass bangles, as well as hefty gold balis, are popular not just among Bihari brides, but also among Bihari ladies in general. Bangles don't need to remind to be on any list. Indian brides are famed for wearing the most expensive ethnic bangles.
Any traditional bride is a sight to behold with these gleaming, handcrafted jewels covering her arms. In India, there is no shortage of amazing bangle patterns.
There is a myriad of patterns to pick from, whether it be chooda or polki bangles from the north or the classic Kerala kappu. As a traditional Indian bride, you can even make a statement by wearing dangling kaleere bangles.
10. Mauri:
A headdress formed of mango or date leaves and worn by the bride during the wedding ceremony, the mauri is now also fashioned of decorative papers and mirrors.
11. Bichua:
The Bihari bride, like many other brides in the Indian subcontinent, wears silver/gold toe rings on her middle toe to indicate she is married.
12. Nose pin-Nath:
Considered a symbol of their marital status, the Nath is an important part of Bihari brides' wedding jewellery collection.
13. Tikli/Maang Tikka:
The Tikli or Mang Tikka is a head adornment and part of Bihari Brides' gold jewellery collection. Mang Tikkas are made of solid gold and set with diamonds, colorful jewels, or pearls.
Some of the gorgeous pieces of head jewellery that are highly popular in Indian weddings, particularly Bihari weddings, are the Udichi Mudhra Gold Mang Tikka, Yachana Mudhra Gold Mang tikka, Deivani Mudhra Gold Mang tikka, and Aarna Mudhra Gold Mang tikka.
No bride is complete without a Maang Tikka on her brow. Maang tikkas worn at the hair parting and have an old-world elegance that will transport you back in time.
14. Earrings: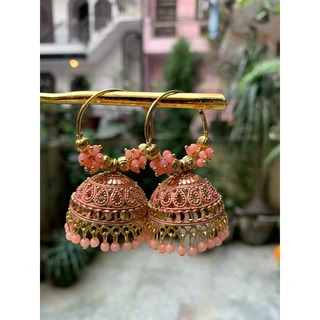 Danglers and Chandbali earrings made of gold and set with precious stones are two famous types of earrings worn by Bihari brides. When wearing a stunning necklace or a regal raani haar, it is critical that you do not leave your ears bare.
Your earrings should complement your necklace and other jewellery, but they do not have to be hefty or obtrusive. An earring is something you must wear throughout the day.
Therefore, it is critical that you select one that is light enough to worn for extended periods of time. After you've determined your degree of comfort, you can play around with the designs.
15. Necklace:
Another essential piece of jewellery for the Indian bride is the necklace. A beautifully designed and stunning traditional necklace can transform your appearance. A necklace not only adorns your neck, but it also enhances your overall appearance.
There are many different types of necklaces to pick from, based on your jewellery preferences and the overall concept of your outfit. These may include bib necklaces, the jadavi lacha (named after the Nizams of Hyderabad), mango haram, addigai, and so on.
These variations provide a touch of ethereality to your entire aura, so make sure to include them on your must-have jewellery list.
16. Rani Haar: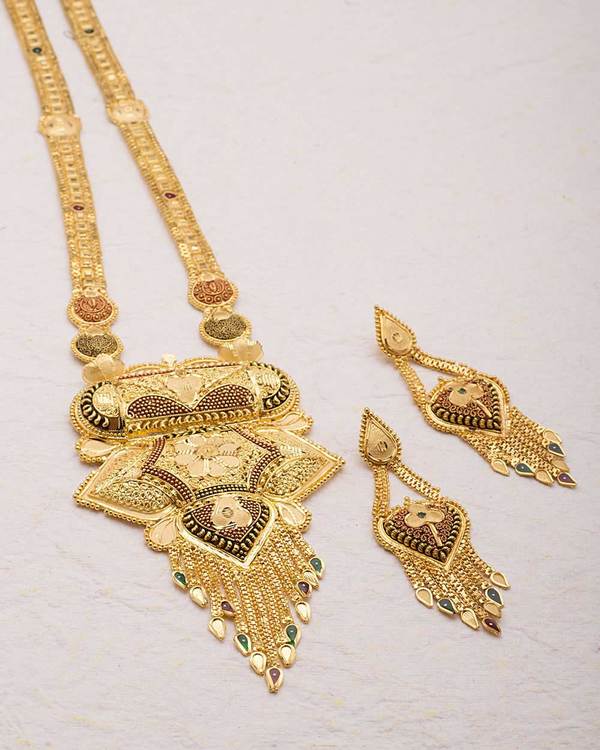 Another traditional jewellery of Bihar is Rani haar is a neckpiece for queens, as the name implies.
17. Kamar band or Waistband:
The most sensual item of wedding jewellery is the waistband. They can layer or thin, studded or beaded, and come in a variety of lengths and styles. They wrap the waist and draw attention to both your outfit and your waistline.
There is no more appealing piece of jewellery than a beautiful Kamar bandh, which complements sarees and lehengas and enhances your torso.
18. Antique Ring: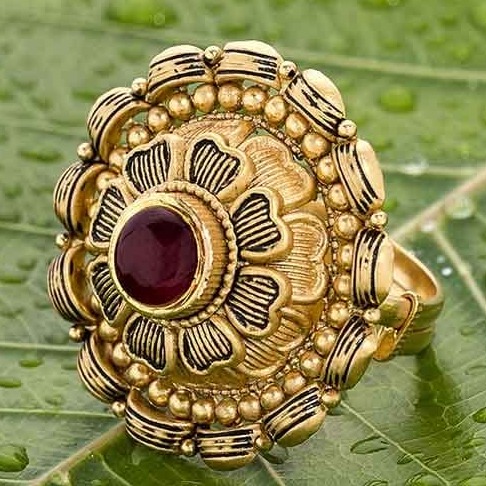 Another traditional jewellery of Bihar is rings, Rings are important parts of wedding sets.
19. Anklet or Toe Rings: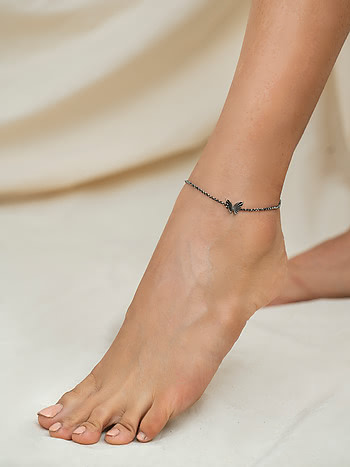 Brides wear anklets all throughout India for a variety of reasons. They're seductive, but they're also ethnic and alien. Anklets with toe rings will work wonders on your delicate feet. Anklets are a feminine must-have because they elevate your feet from ordinary to divine when matched with Mehndi and toe rings.
In many cultures, toe rings represent a woman's marital status. Do we have to wait for a more appropriate occasion than you're wedding to wear these little damsels?
20. Hand Harness/Hathphool:
A hand harness is a lovely piece of jewellery that is worn on the back of the hand.
21. Nose Ring: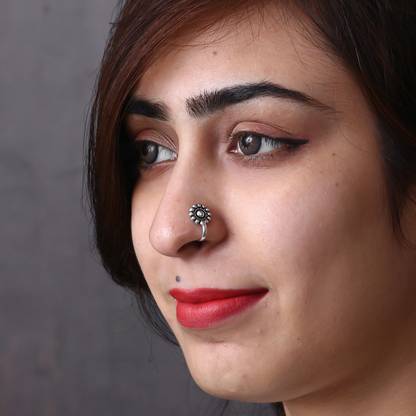 The traditional bride's most stunning facial accent is a nose ring. Because of the classic characters that can readily be linked to them, even a simple nose ring can transport you back in time. If you've chosen heavy clothing and jewellery, an ethnic nose ring would be the perfect finishing touch.
The good news is that you don't have to pierce your nose to wear them on your wedding day; clip-on nose rings that look just as classic as the others are now available. Nose rings make an ethnic statement, so don't be afraid to use them to transform yourself into a glittering, otherworldly damsel.