Located on the Western coast of India and known as the 'Pearl of the Orient', Goa is known for its happy go lucky people who share an air of warmth and affection to tourists from all over the world.
With festivals, music, and dance all year long that people look forward to, the multi-ethnicity of the Goan culture is open to all religions and cultures, and that invites people to rejuvenate and celebrate a chunk of their life in this happy place free from any bias.
Talk about ethnicity, culture, architecture, sports, Traditions, festivals, or people, Goa has uniqueness in everything developed in the place. The modern times of the 21st century have not changed the essence of the place.
Goa is still identified for its Goan food like Prawn balchão, Feni, and more apart from the traditional dress of Goa, which is still worn, despite influence from various places across the globe due to the high tourism rate.
The early traditional costume of Goa when the culture was still establishing itself, people wore strings of beads and leafy clothes as a loincloth. They designed their accessories with colorful beads.
The tribal part of the city still follows a similar style. These tribes include Velip, Kunbi, Zalmi, Dhangar, Gauda. Kashi (male loincloth) and a drape on the shoulders is still the traditional dress in Goa for the tribals.
It is believed that Goa, the Land of Sun, Sand & Sea has also given birth to many fashion statements. When Portuguese entered Goa, their influence was greatly seen in Goa's fashion sensibilities during the time.
And since then, Goa has infused colors in its traditional wear. From colorful yarns to enriching designs, the traditional dress of Goa speaks volumes about its secular identity and the blend of culture from East to West.
The tradition and culture of Goa are held in high regard and is reflected greatly in the traditional dress of Goa. Goa's traditional attire is highly influenced by the weather of the place.
People usually wear cotton clothes and traditionally, have avoided too much bling when it comes to clothes. The traditional dress in Goa is a mixture of various cultures.
It is also a mix of various traditional costumes and is nearly the same as other South Indian attires.
Below is the description of the traditional dress of Goa for both men and women. Read on:
Traditional Dress of Goa for Goan Catholics
Goan Catholics follow a mix of Indian and Portuguese dressing. When the Portuguese came to Goa in 1510, the tribals mingled them and adopted their dressing style and cultural activities. These costumes, in their enhanced looks, still have a place in modern Goa.
Catholic women wear dresses and gowns. They opt for a virgin white gown for their wedding day. Men, on the other hand, wear western-style suits on important occasions, such as weddings.
In the past, Catholic women wore hol. Hol was a white sheet that was put over the saree while making visits to the church. During weddings, they changed their white sari into a red sari, also known as saddo.
For ornaments, women wore fota, a piece of jewelry worn on head, neck, arms, and ears. Fator was a double-chained ornament having a green stone in between two corals. Their bangles are called nille and Cordao was the wedding necklace.
Traditional Dress Of Goa For Non-Catholics
There is a stark difference between the traditional dress of Goa and the rest of the country. Some of the traditional dresses include:
1. Pano Bhaju
Pano Bhaju is the traditional dress of Goa worn along with several pieces of jewelry. Pano Bhaju is a 9-yard sari and is the end product of designer Wendell Rodricks, one of the most famous Indian fashion designers.
These saris come in various designs and draw their inspiration from Persia, China, and Central Asia.
2. Nav Vari
Nav Vari or Nauvari is another type of sari that is studded with stones and worn with attractive pieces of jewelry. It is also known as Nauvaree, Lugade, Kasta Sari, Sakachcha, Kacha. The saree is popular for its length.
This style of sari gives a trouser-like appearance. They come in cotton fabric without the petticoat.
3. Kashti
Kashti is a traditional dress of Goa. It is worn with Kunbi pallu/ the tied knot along with the pleated saree. It is made of loincloth. Sandals are a great idea along with Kashti for a finishing touch.
Traditional Dress Of Goa During Festivals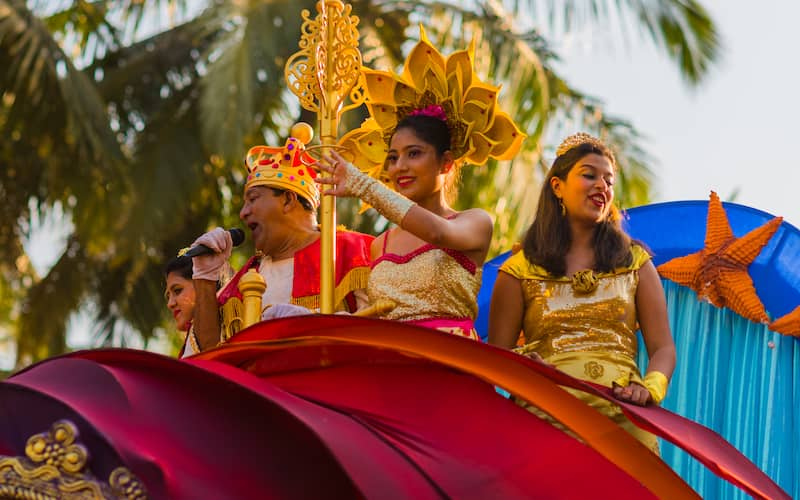 During festivals, men wear colorful clothes and carry banners or torans. The Goa Carnival is a great time to exhibit blingy clothes and props. Attires in vivid colors are the basic theme of the event.
Chowrang, a dance festival in Goa is an important dance festival for both men and women as it marks a colorful amalgamation of costume, dance, and tradition.
The fishermen of Koli do not follow any specific fashion. They wear colorful shirts and half pants. They carry this casual look with a bamboo hat. The hat is made of the bark of bamboo trees.
Wearing brightly colored clothes is a popular and signature culture not just for the people of Goa but for tourists as well. With varied styles and fashion statements, Goa sets an example of kaleidoscopic diversity.
The fusion of Eastern and Western culture provides Goa with a beautiful blend of colors that is reflected vividly in the traditional dress of Goa and its everyday style.
Beach fashion of Goa is also a sight to behold with people from different parts of India as well as the rest of the world gracing the beaches, primarily between November to February when the temperature is 20-32 degrees Celsius.
During this time, women prefer to wear bikinis/ monokinis, cotton shorts, tank tops, long skirts, cover-up dresses, etc. Men prefer Fedora hats, cotton espadrilles, chinos, etc.
Goa is a coastal paradise that provides a spectacular experience in terms of traditional dress in Goa, its cuisine, dance and music culture, handicrafts, and hospitality. The place is in the bucket list of every individual, and we believe it must be in yours too!
Read About : Traditional Dress of Maharashtra