Arunachal Pradesh, land of diversity with over 25 tribes and 100 sub-tribes. People here love their traditional costumes. The Traditional dress of Arunachal Pradesh includes shawls, wraps, and skirts. Though the tribes have common ethnicity, depending on the geographic region dressing style differs. Weaving is said to be in the blood of Arunachal Pradesh natives.
Arunachal Pradesh inhibits cultural diversity when comes to clothing. Mostly, they have derived the style of clothing from their ancestors. The Handloom industry is a thriving industry in Arunachal Pradesh.
The tribal people prefer wearing indigenous organic jewelry only. The raw materials include goat hair, human hair, tree bark, etc. The colors preferred are dark blue, emerald, yellow, black, etc. The origin of these colors is natural dyes, extracted from trees, barks, flowers, and seeds.
The vibrant and offbeat clothing is inspired by geometric patterns. Even floral designs are also a part of their costumes. Stripes are another common pattern. The straight lines in the costumes of Arunachal Pradesh symbolize the discipline of their lifestyle.
The motifs of shapely pointed triangles are symbolic of hornbills and arrows. The small red squares depict ferment used in making beer.
Traditional dress of Arunachal Pradesh for Men:
1. Sherdukpen Tribe
The traditional dress of Arunachal Pradesh in this tribe consists of sleeveless silk material with its edges attached to the shoulder. The costumeis still knee length. The traditional dress of Arunachal Pradesh is complete with a skull cap on the top of the head decorated with the hair of the Yak.
2. Tangsa Tribe:
The traditional dress of Arunachal Pradesh in this tribe wears green-colored wrap-around spun in white, red as well as yellow-colored yarn. A sleeveless shirt with an upper garment is worn.
3. Monpas Tribe:
This is the Buddhist tribe of Arunachal Pradesh famous for its skull cap made of laces and fringes.
4. Tribe of Lower Kamla valley:
The dress of Arunachal Pradesh in this tribe wears costumes that are very attractive.
5. Aptana Tribe:
Aptani men make top knot hair which is known as Piiding. Tattoos are applied by men on their chin.
Traditional Dress of Women in Arunachal Pradesh:
1. Sherdukpen Tribe :
The traditional dress of women in Arunachal Pradesh of Sherdukpen Tribe women wears collarless and sleeveless dresses till knee length. Along with this, a waistcloth with an embroidered jacket with full sleeves is worn. Women wear a bun on the back of their heads.
The traditional dress of Arunachal Pradesh of Tangsa Tribe includes a woven petticoat and a linen blouse.
2. Miji Tribe
Miji Tribe Women believe in keeping it simple. The Traditional dress of Arunachal Pradesh of the Miji Tribe includes a long cloak with huge earnings and beautiful neckpieces.
Adi Tribe Women wear jackets and woolen clothes to keep themselves warm. These clothes are made of deerskin, bearskin, and cane skin.
3. Monpas Tribe
Traditional dress of Arunachal Pradesh in Monpas Tribe Women wears sleeveless chemise with a long jacket.
4. Tribe of Lower Kamla Valley:
Women tie their hair above their forehead in a knot. Crinoline of cane rings is the unique feature of these women.
5. Aptana Tribe
Aptana tribe women have a tattoo that consists of blue stripes from the head to the nose tip. The hair is neatly arranged on top of the head known as Dilling with an Adding Akh passing right across the Dilling.
Arunachal Pradesh Bridal Dress:
Weddings in Arunachal Pradesh differ from tribe to tribe. Women are well respected in terms of marriage in these tribes.
The Bridal Dress of Arunachal Pradesh consists of an ensemble called Baku. This loose-fitting blouse is made of finest silk fastened with a belt which also gives the bride an hourglass figure.
Arunachal Pradesh Bridegroom Dress: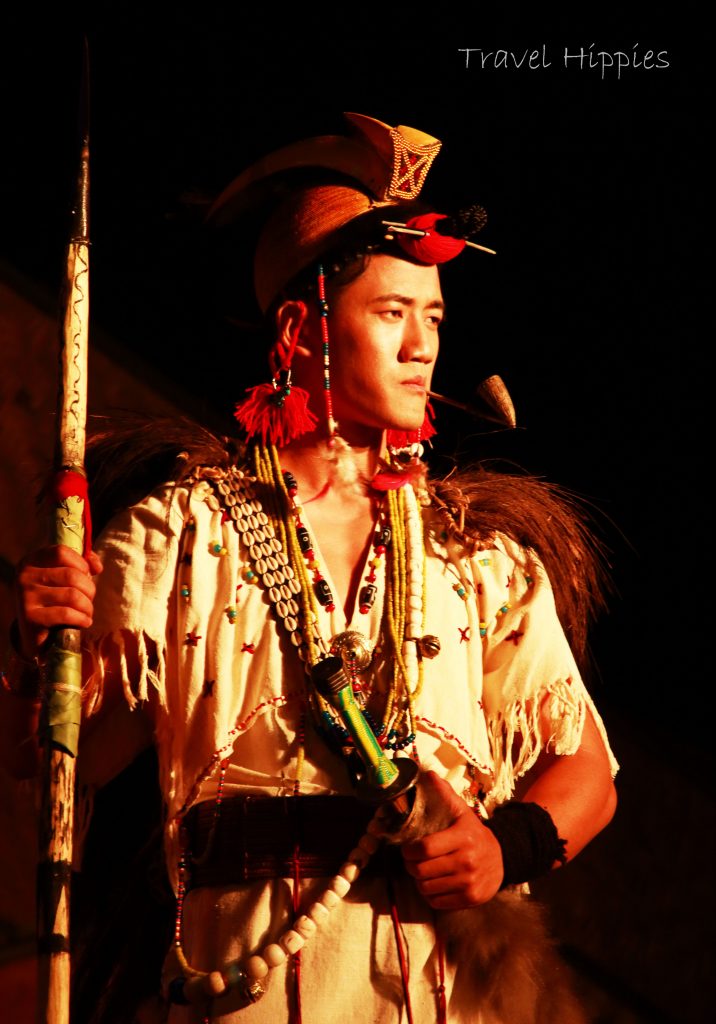 The Bridegroom of Arunachal Pradesh is usually dressed in a long coat with natural jewelry like stones. Skull cap with yak skin on the top of their head.
Traditional Jewelry of Arunachal Pradesh:
Jewelry is very popular in Arunachal Pradesh and hence it is a cottage industry. The various materials used in Jewelry are beads, wild heads, glass beads, colored bird feathers, and green wings of beetles. Bamboo is also used for making bangles and earrings.
Culture of Arunachal Pradesh: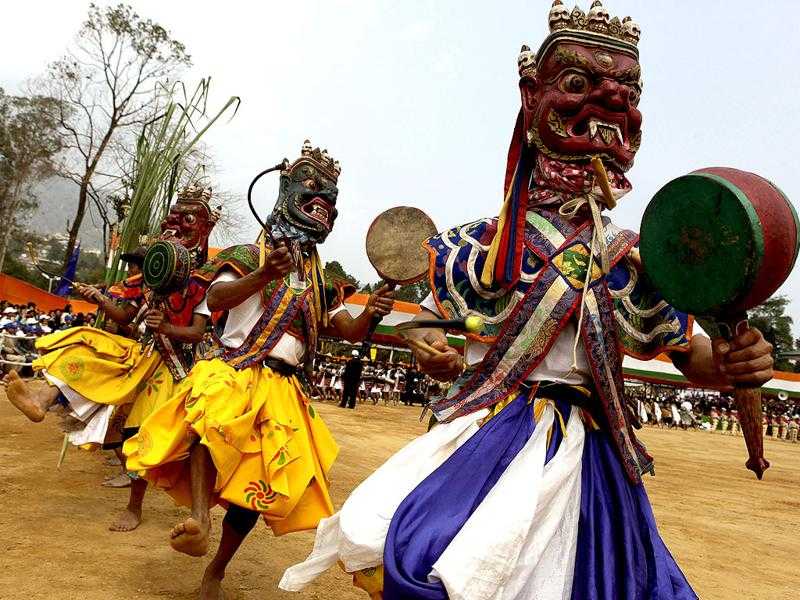 The Culture of Arunachal Pradesh is equally rich and diverse. Before 1972 it was known as Northeastern Frontiers Agency. It is believed that Arunachal Pradesh has an ancient connection with India and is found in Mahabharata and the Kalika Purana.
Sage Parasuram has washed of his sins here, Maharshi Vyasa had medicated here, and Lord Krishna has married Rukmini from Arunachal Pradesh. The 6th Dalai Lama was born here in Tawang in the 17th Century.
The Culture of Arunachal Pradesh is home to several indigenous people. Having lived with nature for centuries, Arunachal Pradesh people depend on Mother Nature.
Dancing along with the chants of priest/priestess, war dance and ritual dance, etc. are performed by men says a lot about the culture of Arunachal Pradesh. Ponung/Ponu is a celebration of Joyous events in the future performed by Men and Women.
Festivals of Arunachal Pradesh:
Arunachal Pradesh is a state of distinct culture and the most gorgeous place in India. Arunachal Pradesh is the place for cultural holidays in India.
The festival seasons are the best times to visit Arunachal Pradesh to learn more about diversity. There are many agricultural, religious, and socio-cultural festivals in Arunachal Pradesh. These festivities are the reason to visit Arunachal Pradesh.
1. Siang River Festival
Siang River Festival: is held to celebrate communal harmony in Arunachal Pradesh in places like Tuting, Yingkoing, and Pasighat. It is a popular festival in Arunachal Pradesh to promote eco-tourism.
This festival offers adventure activities like- elephant race, traditional boat race, River rafting, Food Festivals, Folk dances, Cultural shows, Hot Air Balloon & Paragliding & Exhibitions including handloom and handicrafts.
2. Pangsau Pass Winter Festival
Modern winter 3-day festival which takes place in January, celebrated in Nampong situated in Changlong district of Arunachal Pradesh.
At this festival in Arunachal Pradesh perform folk dances and sing folk songs. Also, handloom and handicraft exhibitions.
Know more about the traditional dress of Assam here.