Over the years, clothing has evolved in all aspects. The Fashion industry in India has touched a wide range of styles and added ordination. Thereby, with a plethora of transformations, both in ethnic and western approaches to fashion, clothing has seen the impact of various ages like Mohenjodaro civilization, British Raj, Post Wall Street Crash along with the 1990s and 21st century.
And with the emergence of brands, we have also witnessed fusion clothing in both western and traditional styles in India. Especially, with women's role having changed to more powerful, independent and diverse, the emergence of pantsuits, shorts, skirts etc has beautifully westernized the ethnic concept. It has made options more available for all class and style tastes.
To put a more focused light in the fashion funnel, the traditional dress of Punjab for both men and women has marked a growing trend of fusion to survive modernization.
With elements of tunics, Patiala pants, flared blouses and more, the element of diversification indeed, comes as a happy multicultural touch. The traditional dress of Punjab for men is Kurta and tehmat while that for women is a salwar suit.
However, over the centuries, the standard dressing of Punjabi suits has evolved with the introduction and fusion of cultures and various techniques. To name a few, below are the various traditional dress of Punjab for both men and women. Read on:
Traditional Dress of Punjab For Woman
When it comes to women, the traditional dress of Punjab can be given amazing twists for all kinds of looks and occasions, from formal to casual. These dresses can be a perfect fit for occasions like Lohri, Holi, Vaisakhi, Teeyan etc. You can add quirk with various contrasts and vibrant colours like orange, yello, indigo, red and so forth.
1. Punjabi Suit with Patiala Salwar
One of the quintessentially beautiful Punjabi dresses for women, Punjabi suits can be clubbed with Patiala salwar and create a perfect ensemble for any occasion or a usual day at college. 
2. Kurti & Dhoti
The second in the list of the traditional dress of Punjab is Kurti with dhoti. This chic ensemble will create a perfect Punjabi dress fusion and will bowl people over. Punjabi dresses look dazzling with contrast colour options like maroon and yellow, white and red, green and blue and so forth.
3. Suit with Churidar
Beautiful and graceful, this traditional dress in Punjab of women is perfect to add a touch of femininity to the personality. A perfectly embroidered Punjabi suit with a churidar will sculpt the figure amazingly.
4. Anarkali Kurta & Pants
Anarkali is all about being extravagant and grand. Make a grand entry to any occasion with a touch of fusion to this ethnic clothing. Pair your Anarkali kurta with pencil or straight pants for a modern appeal.
5. Punjabi Suit with Sharara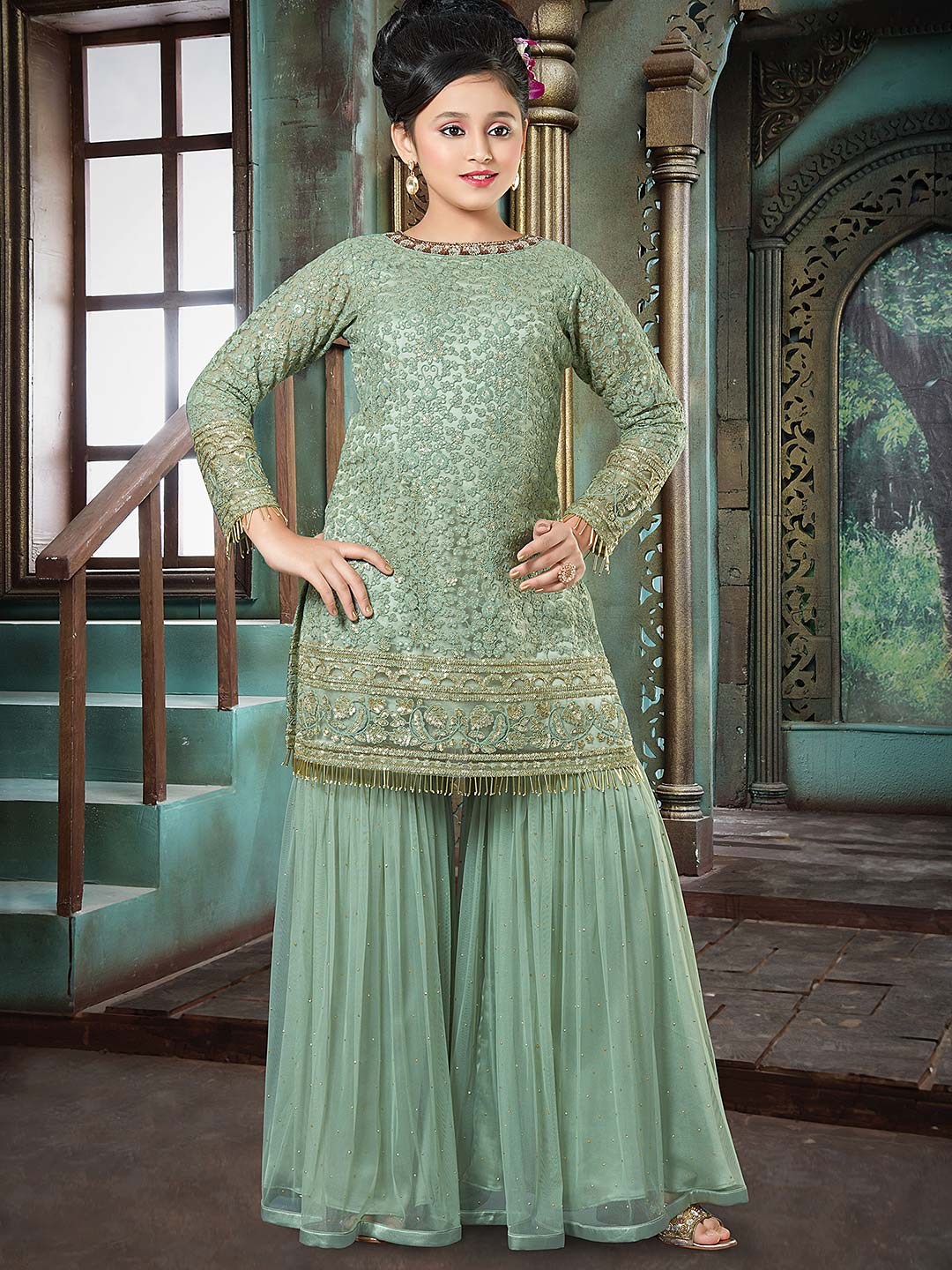 Shimmy through any occasion with a Punjabi suit paired with sharara and make a memorable statement. The traditional Punjabi suit will look amazing with flared up sharara and give you a majestic look.
6. Suit with Lehenga
If you are in a whole traditional kind of mood, a suit with lehenga will be the perfect pick. Turn up the bling with mirror work and embroidered patterns. This will also make perfect wedding attire and draw all the attention with its exceptional gold scallop border at the hemline of the kurti.
7. Punjabi Suit with Jacket
While Punjabi suits are all about tradition and ethnicity, clubbing it with a jacket will turn the whole look more sophisticated. So if you want to stay up to trend but also carry a touch of elegance, this is your choice to go with.
Traditional Dress of Punjab For Men
Men can play a lot with their kurta looks and create a look suiting the occasion. Kurtas can undergo many variations depending on the creativity and suitable mix. For traditional dress in Punjab for men, opt for different fabrics, designs and patterns and choose the below match of outfits to kill the monotony of your looks.
1. Sherwani with Dupatta – Bridegroom Dress
The ultra traditional dress in Punjab is what every Indian man casts his eyes on for the wedding attire. A sherwani with dupatta and a matching turban and layered beaded necklace will cast a classy spell for everyone around.
2. Kurta & Pajama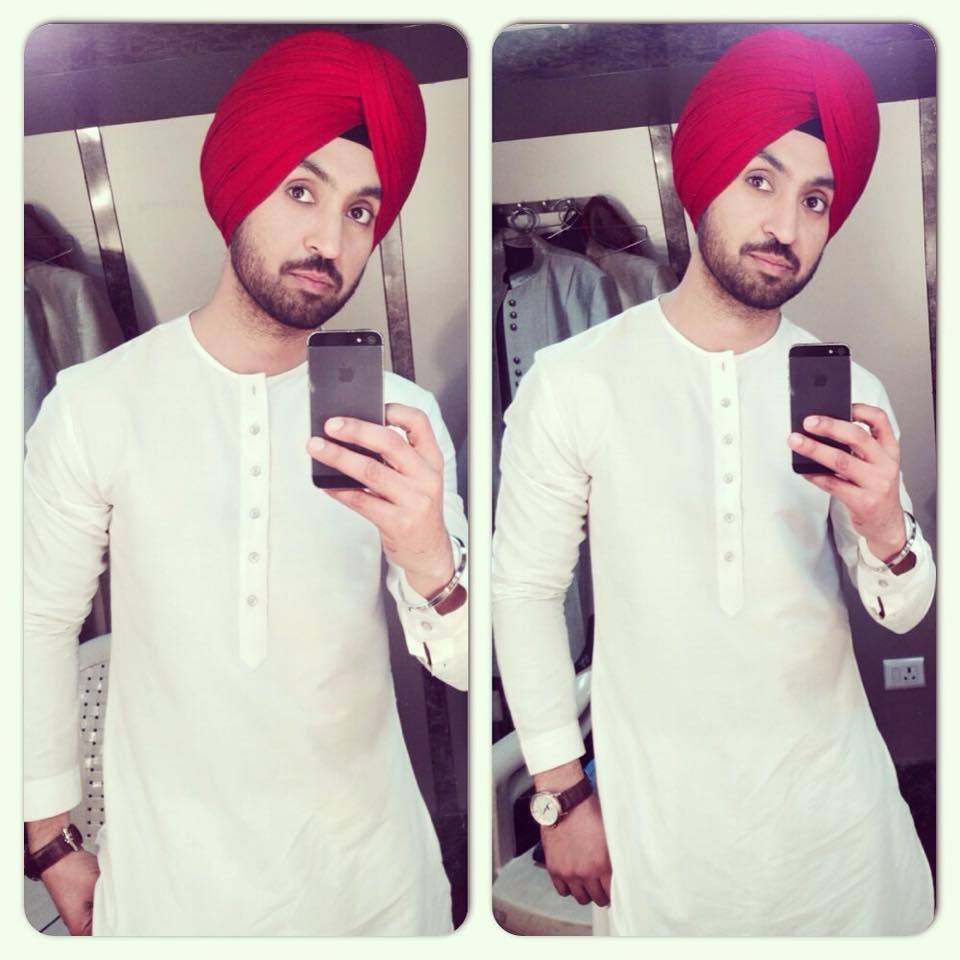 One of the basic traditional dresses in Punjab for men, Kurta and pajama have always been in vogue and will always be. The simple and elegant attire fits all occasions and at the same time, works as a casual day attire too.
3. Kurta with Dhoti
Kurta with dhoti makes an amazing option for men as much as it does for women. Being one of the hottest trends for men, dhoti and kurta can be donned in various ways too for a perfect fusion look like maroon and gold dhoti kurta, monochrome blue dhoti kurta etc.
4. Kurta with Jacket
You can create various looks with Kurta with a jacket. For a charmer look, you can choose a floral jacket over the kurta, for a vibrant look, opt for a bright yellow kurta with square pocket, for a quintessential enthnic look, a Jawahar coat will do wonders.
5. Kurta with Pencil Pants
This debonair combination will give a suave touch to your personality. Play the classic role with a touch of modernity and arrive in style on all occasions and functions. Pair it with a wristwatch and a pair of mojaris.
6. Kurta & Churidar
Play the traditional Punjabi look and show off your built in a well fitted kurta with churidar. You can opt for a monochrome kurta and churidar as a traditional dress in Punjab to create a subtle appeal.
7. Kurta & Dhoti with Waist Belt
You can accentuate your waist with kurta and dhoti with a waist belt. While dhoti will flare up your look, an embellished waist belt for festivals will create just the right balance. Style a messy hairdo and a well trimmed beard to finish your look and garner a lot of attraction.
Traditional outfits scream elegance. And especially, the traditional dress of Punjab, in so many variations, speaks volumes of the culture and tradition coming down for centuries. With this lowdown of ethnic dressing styles with a modern twist, create various looks and flaunt them stunningly. 
Read About Traditional Dress of Maharashtra here.