Vibrant colour combinations, flattering patterns, beautiful thread and mirror work!
I am not listing just random fashion terms!
I am describing the features of the traditional dress of Gujarat.
The terms that you just read, are what make the traditional Gujarati outfits one of the most loved dressing styles throughout India.
Don't you agree?
I mean, you are fascinated by Gujarati dressing, that's why, you're reading this blog, right?
So, why wait, go on and scroll down to check out our list of the traditional dress of Gujarat for men and women.
Traditional Dress Of Gujarat For Men
For Upper Body:
1. Kediyu
Kediyu is paired with Chorno (we've explained what chorno is in our next section) for a traditional Gujarati look.
It is a type of flowy kurta with frills. Because of its look, Kediyu is also known as Angrakhu.
If you're having trouble visualizing it then here's its simpler version to make things easier for you.
Just imagine a short frock in angrakha style with frills.
2. Kurta
While Kediyu is the traditional dress of Gujarat for men, not everyone wears it.
Men, in fact, wear a kurta in their day to day lives.
The Kurtas for everyday use are made up of cotton and the festive looks adorned by men consist of embroidered kurtas made with silk or other fancy materials such as Chanderi.
3. Colorful Shirts:
Anyone who has ever watched "Tarak Mehta Ka Ulta Chashma" must be aware of this dress of Gujarat for men.
The colorful shirts worn by "Tappu Ke Papa aka Jetha Lal" in this show speak for every man's dressing style in Gujarat.
Men wear vibrant shirts with eye-catching patterns on a daily basis.
For Lower Body:
4. Chorno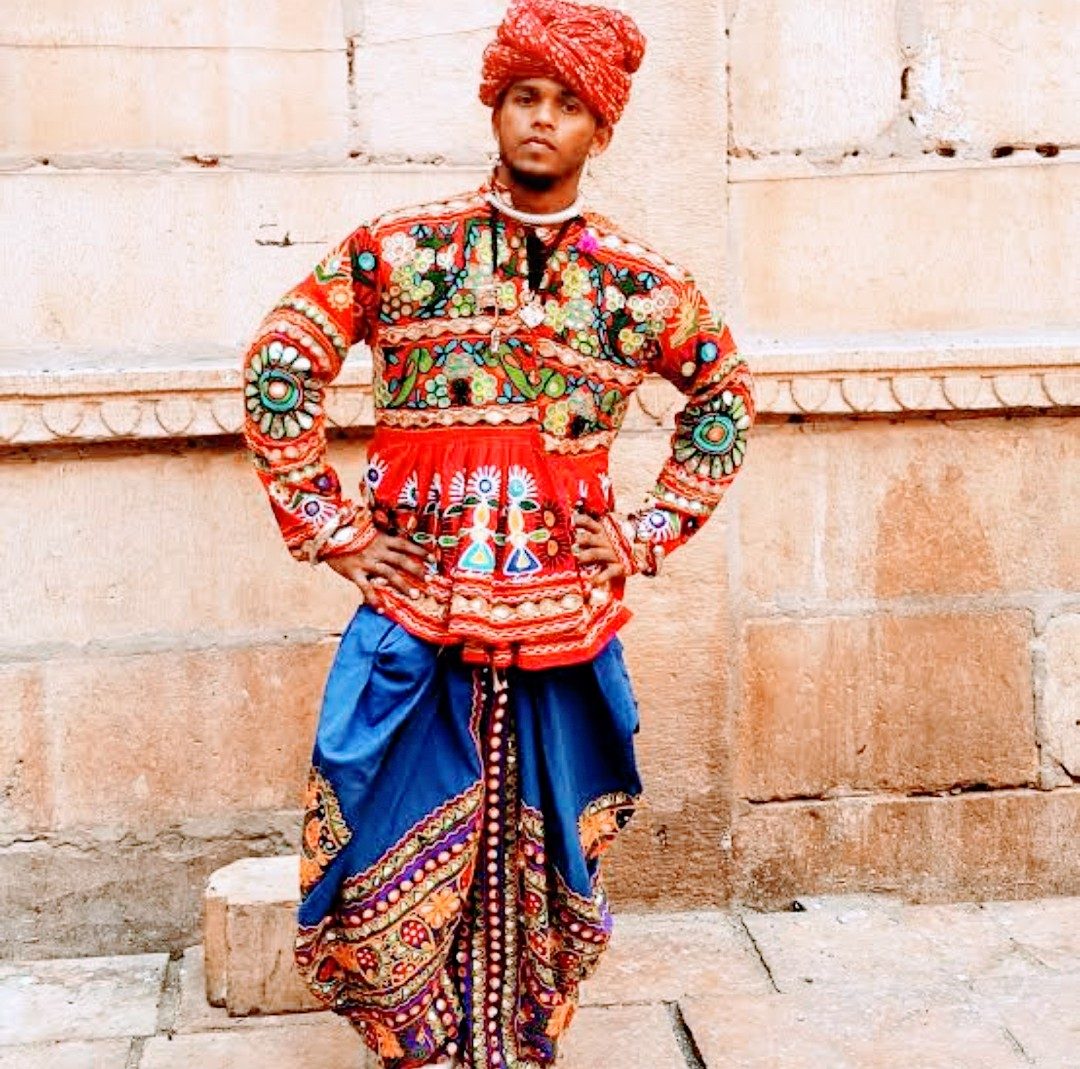 Chorno is the staple clothing style of men in Gujarat.
It is a type of cotton pants that are super comfortable to wear. The look of Chorno resembles a stitched dhoti.
It is tied with a string around the waist. Some men also wear chorno with an elastic. While the former is the traditional way to wear a chorno, the latter is more comfortable and easier to wear.
5. Dhoti
Dhoti is a piece of cloth that is wrapped around the waist and legs. Dhoti is worn by either aged men or men living in the rural areas of Gujarat.
Modern Gujarati men prefer wearing kurtas and pajamas or trousers and shirts on a daily basis.
Accessories:
Phento
Phento is the turban worn by Gujarati men living in rural areas of Gujarat.
It consists of a layered cloth that is wrapped around the head. There is a plethora of colors and patterns available in Phento.
The one shown in the image features a traditional style worn by men living in rural areas.
Traditional Dress Of Gujarat For Women
For Upper Body:
1. Choli:
Choli-Ghagra or Lehenga is the most popular style of traditional clothing for women throughout India.
In Gujarat, women wear colorful choli with a colorful or monochrome chaniyo (a type of skirt). This traditional outfit consists of vibrant motifs adorned with gotta-patti and mirror work.
This may be the traditional dress in Gujarat for women, it is only worn on weddings and festive occasions such as Navratri.
For regular wear, women prefer wearing suits/shirts and trousers. However, in rural areas, women still wear choli and chaniyo.
2. Saree:
Saree is also one of the staple dressing styles for women in Gujarat.
The sarees worn by women in Gujarat are somewhat similar to the sarees worn by women in North India, the only difference being- the way pallu is worn.
In Gujarat, women wear pallu on the front and because the pallu of the saree grabs all the attention, it is embellished with fancy motifs and eye-catching embroideries.
For Lower Body:
3. Chaniyo: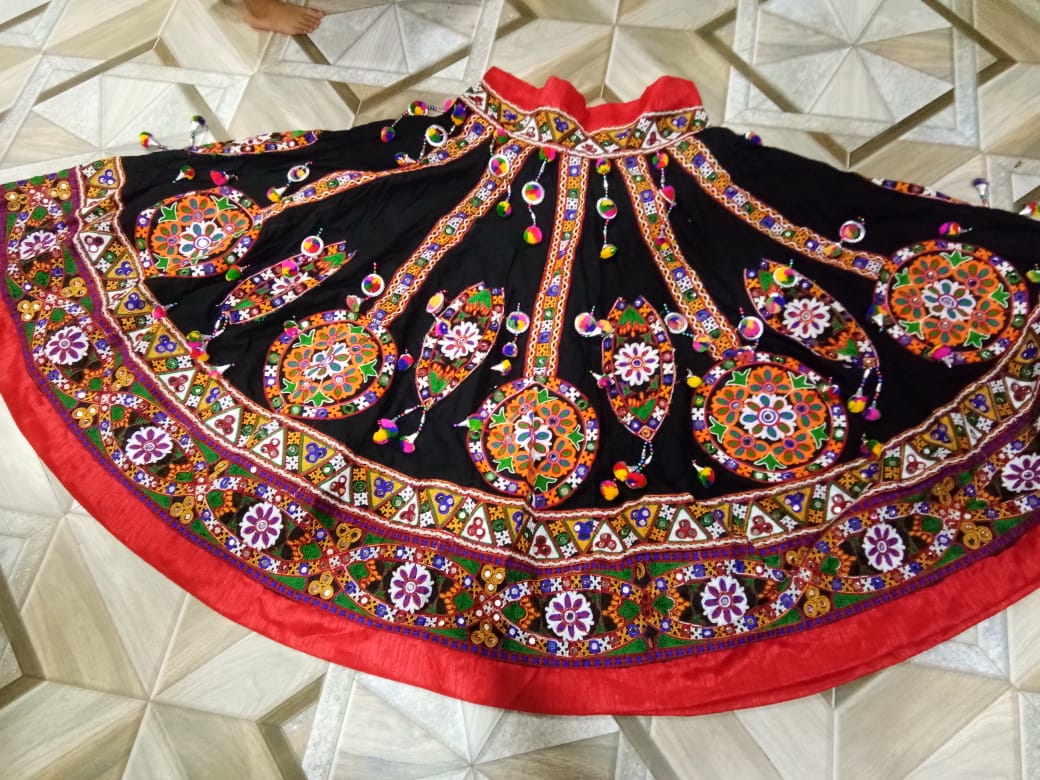 Chaniyo is a type of skirt that comes in a variety of flattering shades.
A traditional Gujarat Chaniyo consists of unique thread and mirror work.
It is paired with a beautiful traditional blouse (choli) and a dupatta.
This traditional dress of Gujarat is worn on special occasions such as weddings, religious ceremonies and festivities.
4. Chunri (Dupatta) :
Chunri or dupatta is a versatile piece of clothing that can be paired with almost every attire.
Think about it, lehengas, suits, fusion outfits such as ethnic gowns, kurtas and what not!
Chunni sabke sath fit ho jati, ain't it right?
So, how can we not talk about this simple yet interesting piece of cloth?
A Gujarati Chunri is famous all over the world for its vibrant colors and exquisite patterns.
Gujarati women wear it in a regular way i.e on either shoulder round the neck. Rural Gujarati women, however, wear it to cover their heads. For them, Chunri is more than just an adornment. It represents their dignity.
So, these were the traditional dressing styles for men and women in Gujarat. Each and every style represents the vibrant and rich culture of Gujarat.
We, personally love each of these styles, what about you?
Which of these styles did you like the most?
Tell us in the comments below!