The spirit and fervour of Maharashtra are unmatched. From white sand beaches to forts holding the old-world charm, everything about the state is truly incredible and praiseworthy.
Maharashtra is home to India's few of the most iconic and developed cities like Mumbai, Pune, Aurangabad, Nashik, Nagpur, Ratnagiri, Solapur, and so forth.
Maharashtra is a beguiling mix of the modern and traditional, beautifully amalgamating to create India's richest culture.

If we talk about the heritage, Maharashtra holds the cultural benefit of having a rich tradition in the fields of art, literature, music, cinema amongst so many other spheres.
No matter the technological strides, Maharashtra has always protected and conserved its cultural, natural, and architectural heritage.

The Maharashtra traditional dress is gravely influenced by its long history. Back in 1721, when the Maratha general Pilaji Rao Gaekwad, took over the city, the city got influenced by the Maharaja's rich style.
He adorned himself with exquisite turbans, silk robes, embellished jewelry, and swords.
The glimpse of Maharashtra's exquisite culture is reflected in the traditional dress of Maharashtra. It is a state with a vivid mix of traditions.
Therefore, from colorful quilts to handwoven sarees, witness the unsullied land of bliss and immerse yourself in its uniqueness.
Enjoy the beauty of Maharashtra with the traditional dress of maharashtra to feel the grandness. The state has a wide range of costumes for both men and women that vary as per the occasions and changing weather. Know them below:

Traditional Dress Of Maharashtra For Men
1. Pheta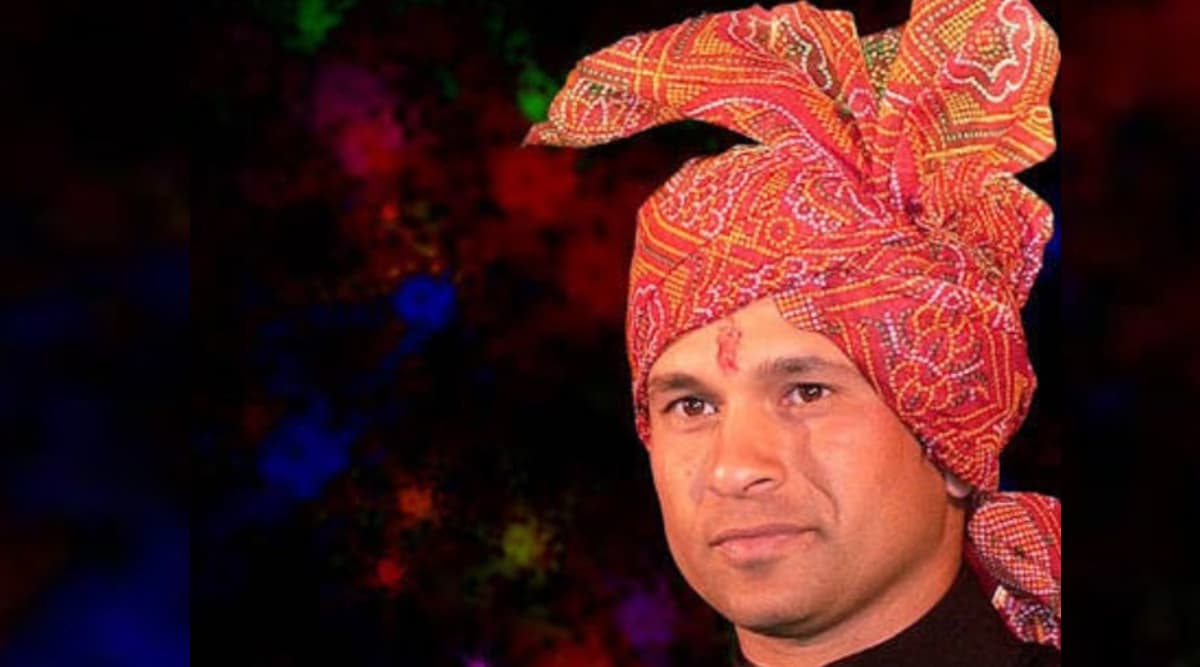 The headgear has its origin in the Peshwa Era. Pheta (फेटा) is a headdress worn by men in Maharashtra. It is a folded cap made of silk, woolen cloth, and cotton. In olden times, the rumal, patka were the names of freshly tied turbans.
The purpose of the pheta or pagdi is to protect the head from the scorching sun. It also gave men a sophisticated look. The traditional Pheta comes in rich colors of white and saffron. It is worn as respect and loyalty for the Maharashtrian culture.

2. Dhoti
Dhoti or Dhotar (धोतर) is an unstitched cloth draped around the waist. It is usually 4.5 meters (15 ft) long. The origin of dhoti traces back to roughly the 5th century BC. This easy and comfortable to wear the Maharashtrian dress for men is usually available in white or cream color.
The traditional wear has come up with many improvisations with time, say dhoti pants. It is an integral part of various Indian occasions. However, Churidar, Ackan, Pyjama, Suvar are also popular on important occasions.
The Marathi style dhoti usually has five knots. The loose ends of the dhoti are tucked in front and behind. Nagpur is the hub of Maharashtrian handwoven dhotis.

3. Shirt/ Kurta
Maharashtra is a warm place. Therefore, a shirt or kurta, the Maharashtrian dress for men is made of cotton to help absorb the sweat. They are loose in style and usually light-colored. The origin of kurta runs back to Central Asian nomadic tunics. Pairan is the kurta with side slits. Maharashtrian dhoti kurta/ shirt is a popular Maharashtrian dress for men.
4. Bandi
Bandi is a special type of jacket or waistcoat. It is sleeveless in style and worn above shirts. Considering the place is warm, Bandi is usually worn as formal attire.
5. Pyjama
Pyjama is also called Lenga or Vijar. It is held together at the waist with a string knot tightly. It is made of cotton fabric.
6. Footwear
Maharashtrian dress for men usually goes well with Kolhapuri slippers. These are open-toed chappals. These sandals originated in Kolhapur, a state in Maharashtra. Kolhapuri chappals started in the 13th century. They are also called Peshwai, Jode, Puneri, Jogle.
However, Kolhapuri chappal is versatile footwear and can be sported with various types of outfits. It is made of 100% buffalo or cow leathers and threads. The primary colors are natural, polish, and oil.

Traditional Dress Of Maharashtra For Women
1. Saree
The saree is 9-yard long with 50-52" width. The pallu or Padar is pleated and placed on the left shoulder. The rest of the saree is pleated and tucked for Kashti. There are different ways and variations of wearing a saree like the Brahmin style, non-Brahmin style, folk style, and the style adopted by Koli women. The Koli saree is called Nauvari.

Saree is the traditional dress of Maharashtra. The saree began to be worn in Dhoti style during war times when women began accompanying their husbands to war zones and the draping style has been popular ever since.

2. Head Cover
Women do not have any special headdress or headgear as men. However, women use their pallu to drape their heads, especially during ritualistic ceremonies or at religious places. The reason for placing the pallu over the head is to show an attitude of humility and seva. It is a mark of respect and gratitude.

3. Blouse/ Choli
Choli (चोली) is the upper garment. It is a short top worn under the saree. Blouses or jackets come in various sleeve styles and length covering the chest or the others go till the waist.
Jewellery of Maharashtra :
The Maharashtrian dress has a lot of jewelry to go along with it.
1. Chura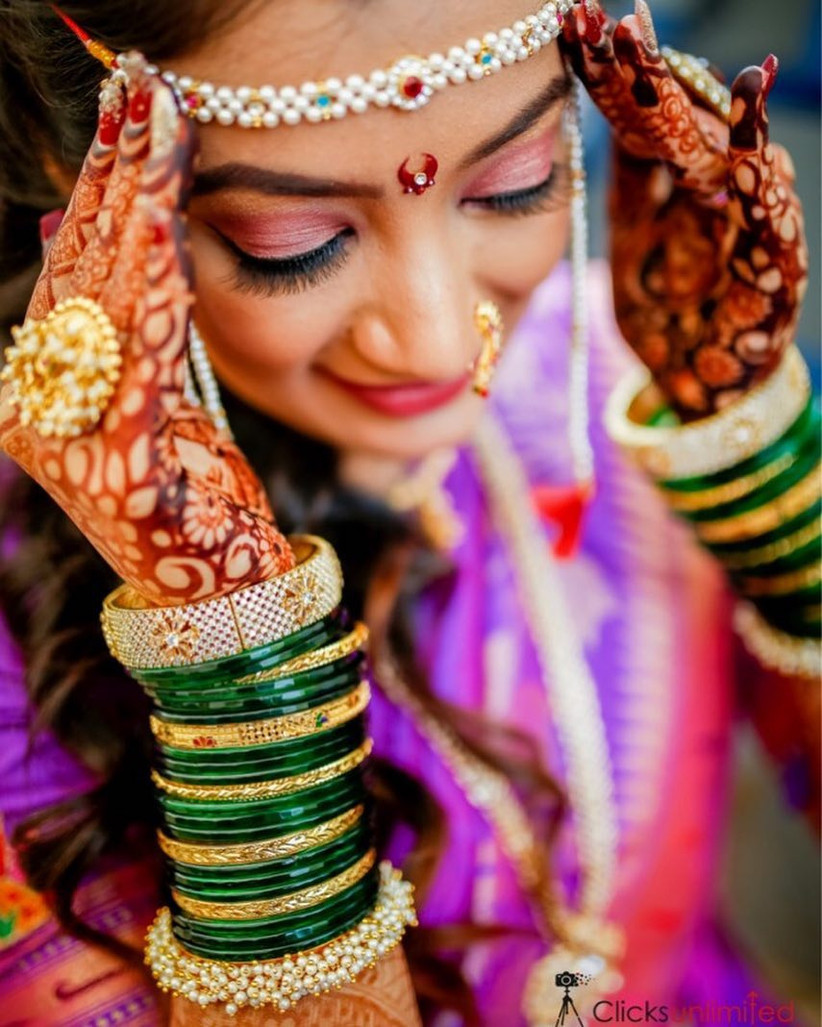 Maharashtrian Chura consists of glass bangles of green color. They are worn in odd numbers with Patlya or solid gold bangles. Bangles are believed to bring prosperity and good luck.
2. Nath
Nath is a piece of traditional Maharashtrian jewelry worn at weddings and religious functions. It has motifs and is made of 22-carat gold.
3. Thushi
Thushi is a traditional Maharashtrian necklace coming in elegant designs like choker Thushi, common Thushi, Vajratik Thushi. Pulti Haar is also another popular necklace-type in Maharashtra.
4. Armlet
In Maharashtra, Bajubandh or vaki are popular designs.
5. Bugadi
Bugdi is popular Maharashtrian jewelry worn in the helix part of the ear. It is made of pearls in beautiful designs.
6. Mangalsutra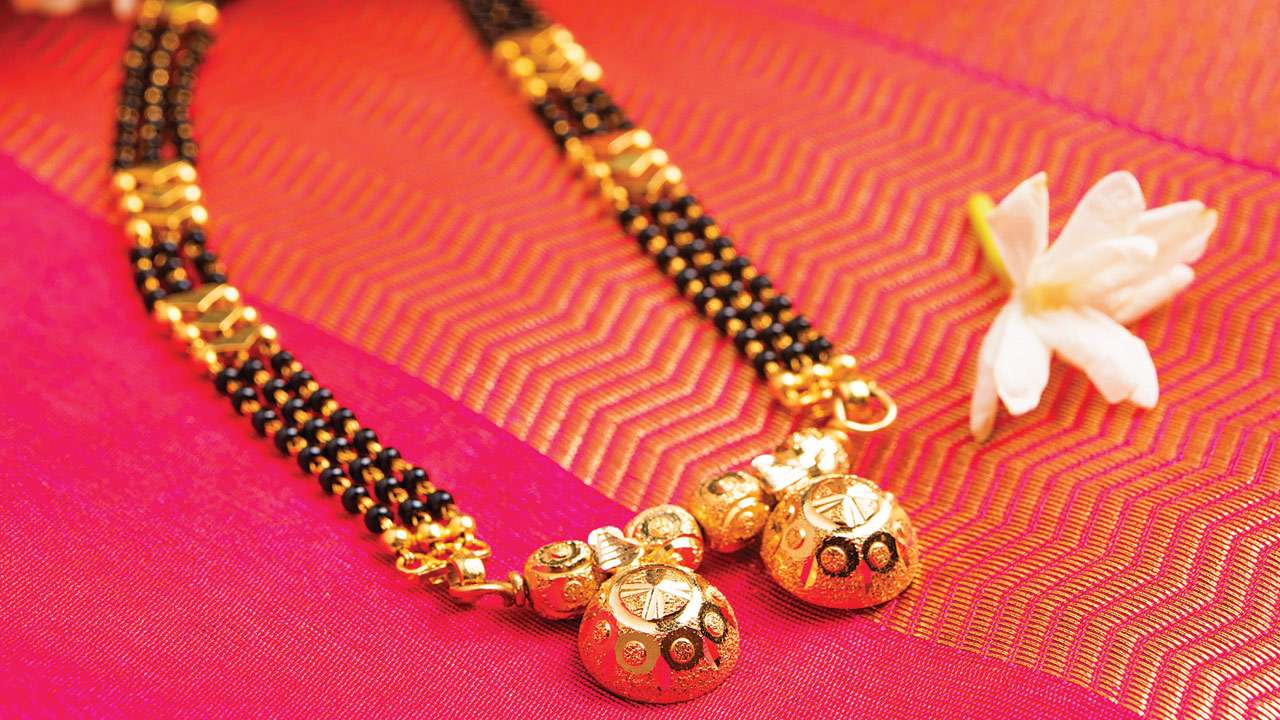 The traditional sacred thread is popular not just in Maharashtra but all across India. It is made up of black and gold beads and signifies marital status.
7. Jodvi
Jodvi means toe ring and is worn by married women and newlywed brides, usually gifted to them by their mothers in law. It is worn in the second toe of both the feet. Unmarried women wear it in their third toe.
8. Footwear
In olden times, women used to be barefoot but now, Kolhapuri chappals for women have established a trend too. They come in various colors for women and are dyed using vegetable dyes.
The traditional dress of Maharashtra is highly influenced by its culture that has seen a mix of various rulers apart from westernization and urbanization.
The best thing about the Maharashtrian dress is the flexibility of wearing it with a wide range of clothing, whether ethnic or western.
When People Wear Maharashtrian Dress :
Many years ago people usually wear a traditional dress every day but Now people wear traditional attire at the wedding ceremony, festivals and special occasions.
So, there you have it. It's time to dress up beautifully and flaunt your Maharashtrian style in the most graceful way.
Read About the traditional Dress of Jammu and Kashmir here.