The stunning history, dialects, architecture, vibrant art music, and dance forms combined with beautiful clothing attire make Odisha an ideal place to explore in India. Odisha was the battleground for the Kalinga war that was fought by Ashoka the great.
Located in the eastern region of India by the beautiful bay of Bengal Odisha are one such state that is known for its unique culture and religious population.
Odisha had a great history and rich culture and all of this is greatly reflected in the clothing and attires as well. Its ancient culture is known for its dresses and classical dance.
If you are interested in knowing more about the traditional dresses of Odisha then you are in the right place. Here we are going to talk about all the different dresses that are usually worn by the locals of the state and how even after modernity the traditional dress of Odisha still shines and is being worn with pride by the locals.
Traditional Dress of Odisha
We are going to divide the traditional dress of Odisha sections into different parts for the sake of convenience. So, the first section is the traditional dress of Odisha for men.
Traditional dress of Odisha For Men
Even though modernization has deeply swept away the craze for the traditional dresses in the youth of Odisha few dresses are still worn with pride by the Odisha men. Here is a list of the traditional dress of Odisha men that are loved by males of every age in Odisha.
1. Dhoti:
A dhoti is a white cotton loincloth that is worn by men of many cultures and traditions of India. But, one thing that sets Odisha's Dhoti apart is its beautiful traditional border of brick colors. Dhoti is one of the most worn traditional dresses of Odisha for men and you should check it out during your next trip to Odisha.
2. Shambalpuri Kurta:
Shambalpuri Kurta is a short variant of your regular kurta. It is extremely famous amongst the men of Odisha. A kurta can be bought in many different colors and designs and it is loved by both youngsters and adults.
Traditional Dress of Odisha for Women
Women from every culture of India love wearing Saree but there is always a catch in the way a saree is worn or is designed in different cultures and the same is true for the traditional dress of Odisha for women. So, without further ado let's talk about all the women dress in Odisha.
1. Sambhalpuri Sari:
It is a traditional handwoven ikat in which weft and warp are tie-dyed before the weaving process is done. It is one of the most chosen traditional dresses by Odisha women. This dress can be worn in every occasion and is loved by the female of every age.
2. Khandua Sari:
Khandua Saree is another popular dress option that is loved by Odisha women. This dress has a special place in the hearts of Odisha as it is aesthetically pleasing and as well as culturally special because the idol of Lord Jagannath is decorated with it. 
Silk Used in Orissa Dress
Sambalpuri and Kahndua are the two most popular Silk that is used in Orissa dress.
Odisha Traditional Dress For Bridal
So now we are going to talk about the traditional dress that is usually worn by brides in Odisha.
Saree:
The majority of brides in Oriya wear the traditionally draped yellow saree that is decorated with flaming red borders that have boula Patta side work in it. But, most modern-day brides usually prefer to adorn sarees such as Benarasi or Kanjeevaram, another popular pick is the Ikkat a local silk saree.
Dupatta or Uttariyo:
An Uttariyo is another mandatory part of a bride's dress in Odisha. It is a long piece of cloth that is used by the bride to cover her head; this cloth is decorated with sequins and zari. Along with that, matching headgear is also included in this which makes her look like a queen.
Shanka Palaa:
Shanka Palaa is an additional accessory that brides in Odisha wear. It is a pair of red and white bangle that is worn in both hands. Shanka (Red Bangles) are mandatory in many parts of Odisha while the white ones are added for contrast.
Tanta Cotton of Baleswar:
Tanta cotton kurtis made in Baleswar district of Odisha is another bridal attire options that many brides in Odisha choose these days.
Traditional Dress of Odisha For Bridegroom :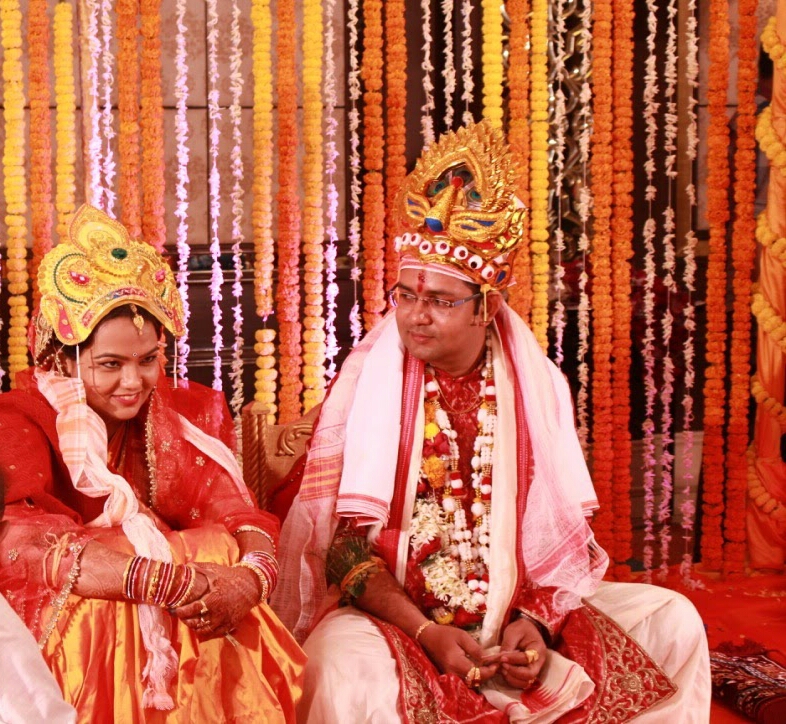 The traditional dress of the Odisha groom is as elaborate as that of a bride. So here are the two most commonly worn traditional dresses of Odisha for the groom.
Kurta:
As we have mentioned above, a Kurta comes in many different styles and designs and for the wedding, most of the Odisha men choose an elaborate kurta. For the most part, a symmetrical buttoned-down kurta with a minimal print pattern on sleeves and a minute amount of patchwork on the lower side is chosen.
Payjama:
The type and design of Pajama mostly depend on the Kurta. For the most part, a simple white pajama that complements the color of the kurta is chosen by the groom.
Sherwani:
Apart from the traditional Kurta Pajama, Sherwani is what many grooms in Odisha love to wear during their wedding. Similar to other parts of country, Sherwani is Odisha can be considered an embroidered and highly decorated form of Kurta and Pajama.
So, these are some of the traditional dresses of Odisha that showcase its culture and beauty. Make sure you check them out on your next trip to Odisha.
Know more about traditional dress of goa here.