Parenting a pet has become a lifestyle that most of the celebrities are adopting these days.
From taking their pets to trips/studios to sharing the pictures of their pets with their insta fam, celebs are always celebrating the chemistry that they have with their pets in the most unique ways.
Believe it or not, people have actually started adopting pets owing to the influence created by celebrities and their fur babies.
Now that might seem wrong to some people but if you ask us, as long as the person understands the responsibility of parenting a pet, it's all right to be influenced by the pet-friendly lifestyle of the celebrities.
After all, having a pet does make you happy (trust us).
Don't believe us?
Well, we have made of list of the cutest fur babies owned by the celebrities that might just do the trick for you.
PS: After reading this, you'd want to adopt a pet right away.
Bollywood Celebrity Dogs :
Salman Khan
Image credits: Pinterest
When it comes to celebrities and their pets, Salman Khan is the first name that pops into our heads. He had a St Bernard called Saint who died last year.
Salman is really fond of dogs. Did you know that he has 5 dogs? He is a proud dad to two French Mastiffs, Myson and Myjaan, a labrador called Mowgli, a Napolean Mastiff called Mylove, and one French Mastiff called Veer.
The actor often takes to twitter to share the pictures of his pooches and if you wanna get paw-struck by the cute pictures of Salman with his dogs, follow him on Twitter @ BeingSalmanKhan.
Priyanka Chopra and Nick Jonas
Our desi girl is obsessed with her female pup, Diana, so much so that she has even set up an Instagram account for Diana. It goes by the name "diariesofdiana" (Priyanka Chopra dog)
Did you know that Priyanka herself handles this account?
Diana isn't the only pup who gets pampered by PeeCee and Nick. Priyanka has recently gifted a German Shephard pup (Gino) to Nick Jonas on their first wedding anniversary.
Did you also know that Gino too has his own Instagram account? Yepp! It's true. You can have a look at all his cute pictures here: @ginothegerman.
Amitabh Bachan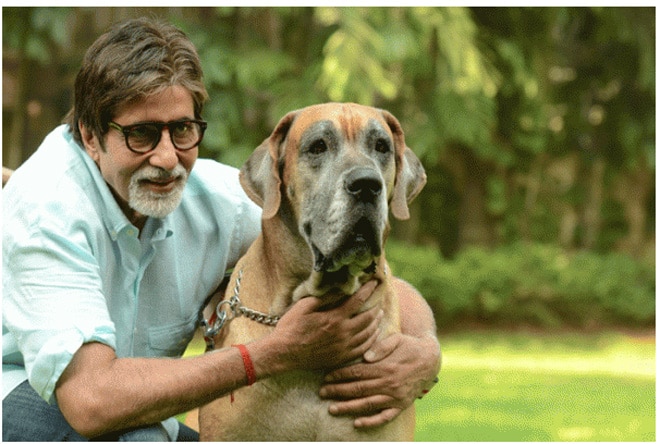 Image credits: Pinterest
Amitabh Bachan is a proud dad to a Piranha Dane. Can you guess Amitabh Bachan dog name?
No? Okay…
The answer is "Shanouk".
He is an adorable dog and did you know that he even got jealous when Big B started giving more attention to his grand-daughter Aaradhya? Isn't that super cute?
Disha Patani
Disha too has a very cute fur baby "Bella".
Disha and Bella are pure love ❤
Just look at these two. Don't they look paw-dorable?
Karan Johar
Karan made an addition to his family in 2016. His pooch is a French bulldog named Nobu Johar.
Karan even shared a very cute picture of Nobu being kissed by Alia Bhatt. He captioned it as "New member of the family….NOBU JOHAR…@aliaabhatt launches him on social media."
Now, isn't that adorable?
Sidharth Malhotra
Sidharth owns a very cute Boxer, Oscar. The actor spends most of his free time playing with Oscar. He often takes to Instagram to share the pictures of Oscar and we can't get enough of both these cuties.
Did you know that Sid even posted a video with Oscar to promote Akshay Kumar's film Entertainment (2014)?
Shraddha Kapoor
Image Credits: Youtube
Shraddha owns a very cute Lhasa Apso, Shyloh. Her Instagram feed has a lot of cute pictures of Shraddha cuddling with Shyloh.
Ranbir Kapoor
3 cuties in one frame! Our hearts are melting.
Only a few people know that the handsome hunk of Bollywood is the greatest dog-lover of all times. Yepp! We are talking about Ranbir Kapoor. He is crazy about his doggos: Lionel and Nido.
Shilpa Shetty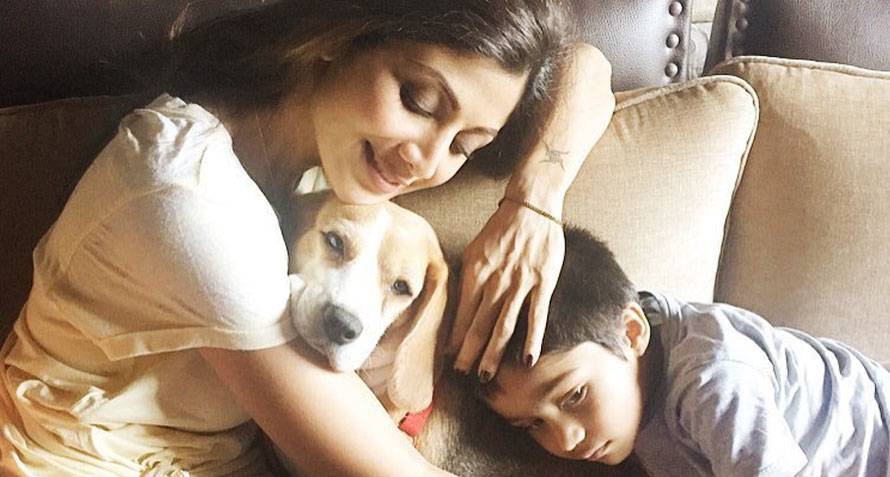 Image Credits: https://parenting.firstcry.com/
Shilpa Shetty is a proud mother to a Persian cat "Simba" and a Pekingese dog called "Champagne". Shilpa has also adopted a stray cat, called "Queen".
Sonam Kapoor
Image Credits: Wonderful Mumbai
Sonam Kapoor's Instagram feed has a lot of cute pictures of her dog "Cardu" who has a very special place in her heart.
Hritik Roshan
Image Credits: Pinterest
Hrithik owns a beautiful Golden Retriever named "Zane".
"Zane has become my 'hug buddy'. He's always ready to give love," said Hrithik in an interview.
On being asked why the name Zane? Hritik said, "Hrehaan and Hridhaan wanted a name that wasn't an obvious dog name, and more of a human name, hence, Zane.
Farhan Akhtar
Image Credits: Pinkvilla
Farhan has 3 dogs: two Labradors, named Bella and Bonny, and a Beagle, named Zen. He is very fond of all of them!
Do you have a pet? If yes then we would love to hear about their stories.
Tell us in the comments below!